There is growing anger in Kenya over the slow and at times farcical response of the elite commando unit who were ordered to go to Garissa University as it was attacked by al-Shabaab militants.
According to one of the commandos, speaking under condition of anonymity, the authorities in Nairobi knew of the deadly attacks - in which at least 148 died - at 7am on 2 April. The response team were told they were going to Garissa.
However, the troops didn't even set out for Garissa for over five hours because no planes were available - one of which was being used by Police Airwing chief Rogers Mbithi to collect members of his family.
America's CNN says police in Nairobi were first informed of the attacks at 7am. At 8am they were told no planes were available. It transpired that one was despatched that morning to Mombasa as part of a training exercise, after details of the massacre began to emerge.
Rogers Mbithi admitted this plane was re-routed to collect his daughter-in-law and her two daughters who were on holiday on its way back to Nairobi. However he insisted he had broken no laws.
"There is nothing to hide. It [the plane] came back with her [his daughter-in-law] and two small children. I took full responsibility and explained that," Mbithi told the Daily Nation.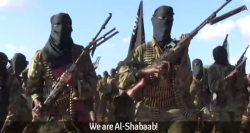 As no planes were available, a reserve team had to travel to Garissa by road, a journey of five hours, while the main assault team waited for planes. At 9am they were sent to Nairobi airport but the journey reportedly took two hours due to heavy traffic. Arriving at 12.30 they flew to Garissa, then on arrival spent two and a half hours rehearsing their assault.
The assault at 5pm took around 15 minutes, at the end of which four al-Shabaab terrorists were dead - along with 142 students, almost all Christians targeted for their religion, plus six members of the police and armed forces. Al-Shabaab said they committed the atrocity in revenge for Kenya's military presence in their homeland of Somalia.
Kenyan authorities have defended their response, saying that by 7am almost all the students were dead anyway and that "It was never a hostage situation." However locals are asking why one plane was sent on a training mission to Mombasa at 7.30am, when the attack was already taking place. Others are calling for Mbithi to be sacked.
On Twitter Kibuchi Gabriel wrote: "This family of police air wing commandant Rogers Mbithi is responsible for deaths of our children in #GarissaAttack."
However Capt Collins Wanderi defended Mbithi saying: " Col (Rtd) Rogers #Mbithi was my colleague at the Airforce, a fine officer now being roasted over old pics, judgmental error, #KOT pse 4give!"