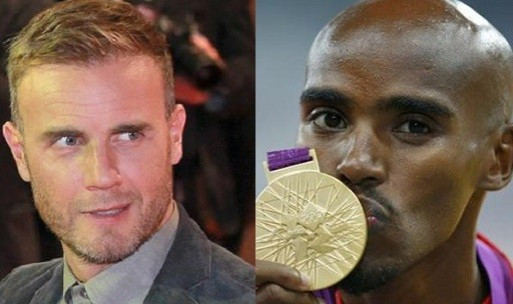 Gary Barlow threatened to go on the rampage after losing the Premier Inn Celebrity Dad of the Year title.
The X Factor judge, who picked up the gong in 2012, was so disappointed to hear he had been dethroned by Olympic star, Mo Farah, that he considered smashing the windows of his nearest Premier Inn hotel.
After hearing the news of Farah's victory, the father-of-three tweeted a series of tongue-in-cheek messages voicing his resentment.
"I can see a Premier Inn from here. Might smash the windows," he told his 2.9 million followers.
He later posted a mock-up picture which showed him apparently throwing a brick through a window of a Premier Inn and added: "Taken just before the police arrived."
Barlow continued the sniping by sharing a snap of Farah accepting the award dressed in a tracksuit. "See, he didn't even bother dressing up," he told his fans.
Farah, stepfather to Rihanna and natural father of twin girls Aisha and Amani, who were born just weeks after he won the 5,000m and 10,000m London Olympic races in 2012, expressed his delight at winning the accolade.
"I train to be an athlete but there is no training to be a dad. This award shows I must be doing something right," he said.
"I'm just so happy that people feel I'm being a good dad. It's such an honour."
Premier Inn 2013 Celebrity Dad Of the Year Top Ten
1. Mo Farah
2. Gary Barlow
3. Peter Andre
4= David Beckham
4= David Weir
5. Fabrice Muamba
6. Robbie Williams
7. Marvin Humes
8. David Walliams