A group of pro-Palestine activists have been arrested after staging a rooftop protest on an Israeli arms manufacturer in Melbourne.
Members of the Melbourne Palestine Action Group, a group consisting of activists from Whistleblowers Activists and Citizens Alliance (WACA) and Renegade Activist, scaled the roof of the Elbit Systems factory to unfurl a series on banners and slogans, including one reading "Elbit drones killing kids".
The group also built a fake wall to mimic the Israeli-built wall which stands in Gaza.
Elbit Systems is Israel's largest weapons manufacturer. The website states the company operates in "areas of military and commercial aerospace" such as unmanned aircraft systems.
The group said they were inspired by a similar protest by the London Palestine Action group, in which nine activists shut down an Elbit System-owned factory in Staffordshire which produces engines for drones.
Seven protesters have now been arrested in Melbourne and charged on suspicion of trespassing.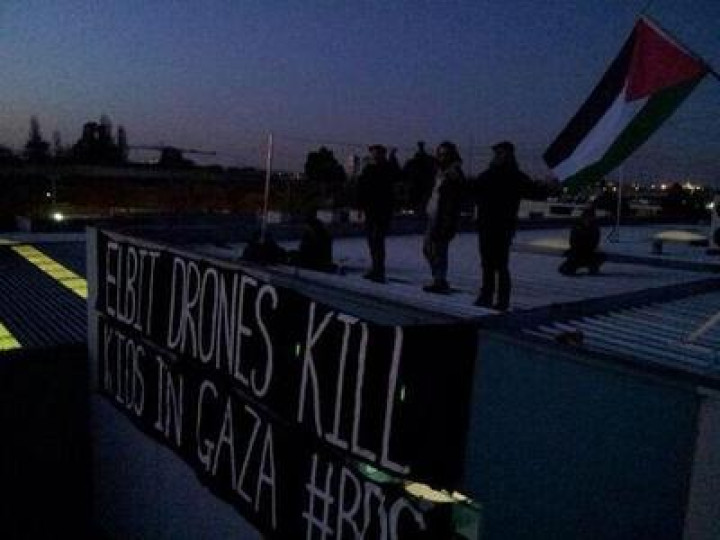 Sam Castro, spokesperson for the Melbourne Palestine Activist Group, claims drones produced in the factory are being used in the current conflict in Gaza.
She said: "By importing and exporting arms to Israel and facilitating the development of Israeli military technology, governments are effectively sending a clear message of approval for Israel's military aggression, including its war crimes and possible crimes against humanity."
Jacob Grech, one of the activists who took part in the protest, added: "Melbourne is one of the most liveable cities in the world and we believe that most Melbournians would be shocked to learn that a company operating drones that kill women and children in hospitals and schools is operating in here in the leafy suburb of Port Melbourne".
Nina Bassat, president of The Jewish Community Council of Victoria, condemned the actions of the protesters.
She told JWire: "This accentuates the difference between the sides in this conflict. The Jews in our community pray for peace and the Palestinian supporters express aggressive behaviour."
Elbit Systems have not yet commented on the protest.