As the rooftop protest on top of the Israeli-owned factory in Staffordshire entered its second day, one of those involved in the demonstration accused the drone engine maker of "hiding in plain sight."
In the early hours of Tuesday morning (5 July), nine pro-Palestinian activists, including members of the London Palestine Action group, scaled the roof of the UAV Engines Limited factory in Shenstone to unfurl a series of banners urging the UK to "stop arming Israel".
In a statement on its website, UAV says it produces "engines for various size tactical UAVs, target drones and single mission platforms." It is owned by Israel's largest weapons company, Elbit Systems.
After more than 30 hours on top of the roof - which saw one arrest - one of those taking part in the protest explained the reasons for the demonstration and why they believe the company have not resorted to more drastic actions to remove them.
"When we came up here there had been 1,850 people killed in the [Gaza] conflict, 80% of which were civilians, [some of whom] were killed by parts made by this factory and sent to Israel," Sammy, who did not wish to reveal his surname, told IBTimes UK.
He added: "The UK government has historically done nothing about it. There have been calls from Palestine for people around the world to take action. That is why we came here - to stop this factory producing stuff which is used in machines that kill people."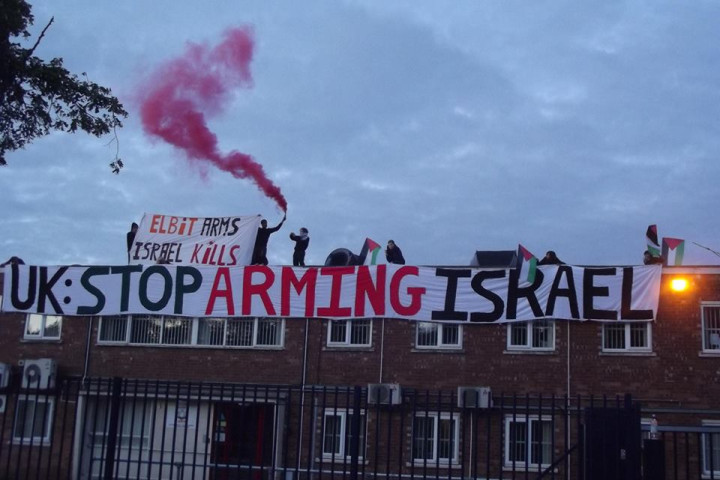 The UAV factory has been closed for the duration of the protest, and Staffordshire Police confirmed they have cordoned off the area surrounding the building.
UAV have yet to comment on the ongoing incident and could not be contacted by IB Times UK. No staff members have been able to enter the building while the protest takes place.
'They don't want people to know there is a factory here'
Sammy added: "The company really haven't been interested in trying to talk to us, but I think the message we have for them is quite clear.
"The factory is almost hiding in plain sight. It's just a normal building on a normal road in the countryside, but actually what they're doing is helping to build machines which have killed over 1,000 civilians in the past four weeks, a lot of which are children.
"I think they know if they made a big deal about this they'd probably end up getting a lot more flak.
"Police have shut down the entire road so cars haven't been coming down. They don't want people who live around here, a lot of whom have been quite supportive of what we're doing, to realise there is a factory here which makes engines for machines which kill people."
Sammy said the group have no immediate plans to leave the rooftop and hope to stay there "as long as we can stop this factory working".
He added: "We demand the UK stop selling any weapons to Israel which are used to kill civilians in their homes. The UK isn't taking any actions, so we're doing it ourselves."
Amnesty International previously said there is evidence to suggest engines created in the factory were used in drones which killed civilians during the 2008-09 Operation Cast Lead attack on Gaza.
Amnesty spokesperson Oliver Sprague said: "It's understandable protesters are targeting UAV Engines given past concerns about the company supplying Israel with engines for drones.
"The government has previously claimed UAV Engines is only licensed to sell drone engines to Israel for onward export, but the fear is that this Israeli-owned company's engines are actually powering Israeli drones over Gaza, or that the technology is being copied to allow Israel to fly its drone vehicles.
"Quite frankly no UK-based company should currently be supplying the Israeli military with any arms or equipment."
Staffordshire Police confirmed one protestor has been arrested on suspicion of aggravated trespass after he climbed down and locked himself to the entrance door of the building.
He was examined at the scene by paramedics before being taken into custody for questioning by police.