Pro-Palestine activists have shut down a factory in Staffordshire owned by an Israeli military company in protest at the current Gaza conflict.
Members of the London Palestine Action group scaled the roof and chained the doors of the UAV Engines Limited factory in Shenstone.
UAV states that it produces "engines for various size tactical UAVs, target drones and single mission platforms". It is owned by Israel's largest weapons company, Elbit Systems.
London Palestine Action are demanding a closure of the factory, as well as an "end to all forms of military trade and cooperation with Israel".
The group unfurled banners on the roof of the factory with the slogans "Elbit Arms Israel Kills" and "UK: Stop Arming Israel" as part of the ongoing protest.
The area around the factory has been sealed off by police while the "peaceful protest" takes place.
Amnesty International claim engines built in the factory were used in drones to attack civilians in Gaza during 2008's Operation Cast Lead, reported Politics.co.uk.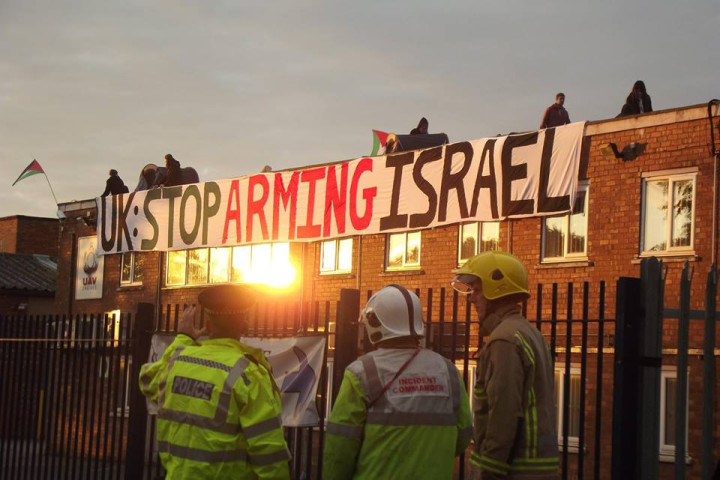 A spokesperson for London Palestine Action said: "Drone engines manufactured at this factory have been exported to Israel in 2010, 2011 and 2012 and Elbit Systems drones are being used in Israel's ongoing massacre. Any claims that components manufactured at this factory are not being used in Israel's current attack on Gaza are not credible.
"Drones are a key part of Israel's military arsenal. By allowing this factory to export drone components and other arms to Israel, the UK government is providing direct support and approval to Israel's massacres."
UAV Engines Limited could not be contacted by IB Times UK while the rooftop protest took place.
The group previously unveiled the "UK: Stop Arming Israel" banner from Westminster Bridge as part of the protest against Britain's funding of Israel. The activists also staged a "die-in" demonstration inside a supermarket in Whitechapel, east London, to highlight the number of Palestinian deaths during the Gaza conflict.
A Staffordshire Police spokesperson said: "Police were called to a business premise on Lynn Lane, Shenstone, just after 5.20am this morning, Tuesday, following a report of a public protest on top of a building.
"Officers are in attendance to ensure the protest remains peaceful and safe and we are working closely with the business and the protestors. As a result of this activity we have cordoned off Lynn Lane.
"The safety of our officers, the business staff and the protestors is our priority."