Palestinian medics and officials say a 32-year-old man was shot dead in the northern Gaza Strip by Israeli forces as he looked for song birds nesting in trees close to the border to sell in local markets.
The man was shot close to Jabalya refugee camp and has been identified as 32-year-old farmer Fadel Mohammed Halawa. Emergency services spokesman Ashraf al-Qudra told the AFP news agency that Halawa had been shot in the back. It has been suggested Halawa was shot by a soldier from a nearby watchtower.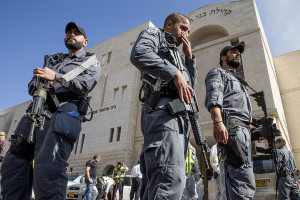 Israeli sources claim Halawa was with another Palestinian and did not stop when ordered to by Israeli soldiers, who first fired their weapons in the air as a warning. An Israeli spokeswoman said: "Once they didn't comply, they fired towards their lower extremities. One was hit."
Israel claims many areas close to the border are no-go areas because Hamas and other terror groups use them to conduct surveillance, plant bombs and launch attacks within Israel.
Today two other Palestinians were apprehended trying to enter Israel from Gaza near the Kerem Shalom crossing, one allegedly armed with a grenade.
The death of Halawa is the first such fatality in the Gaza Strip since the 50-day conflict, in which around 2,200 people died, ended in August. In recent weeks there have been escalating tensions in the region including several terror attacks within Israel which have claimed 11 lives and the decision to build new settlements in disputed territories.
Overnight, a Palestinian home near Ramallah in the West Bank was allegedly petrol-bombed by Jewish extremists and the words "Death to Arabs" daubed on the walls. Mohamed Abdel-Kareem, the owner of the house, was quoted by the Anadolu Agency as saying the attempted arson was the work of Jewish settlers.
"A group of settlers sneaked into the village at around 4am and tried to break into the house," said Abdel-Kareem. "When the neighbours and the people of the house woke up, the settlers threw a petrol bomb inside it and ran away."
Police are investigating the attack.