Ahead of its summer recess the US Congress has rushed through a $225m (£134m, €167.5m) donation to help upgrade Israel's 'Iron Dome' missile defence system, which has shot down dozens of Hamas rockets in the last three weeks.
The bill must now be authorised by President Obama, who in recent days has been unusually critical of Israel's actions which have killed and maimed huge numbers of Palestinian civilians, including hundreds of children.
The Iron Dome system relies on advanced technology to calculate the trajectory of incoming missiles fired by Hamas and other groups from Gaza. If headed for urban areas the missiles are blasted out of the sky with short-range rockets, each costing around $100,000.
Some of the money will go to Raytheon, a US-based defence contractor which manufactures components for the system, credited with saving many Israeli lives.
Officials in Israel claim the system has a success rate of 90%. Today three rockets were fired towards Tel Aviv, two of which were shot down. The third apparently caused little damage.
Relations between the US and Israel have been unusually cool in recent weeks, with some Israeli commentators criticising US secretary of state John Kerry for seeming to engage with Hamas and making sarcastic comments about Israel's military actions. Israeli government officials are quoted as saying that Kerry was "completely capitulating" to Hamas.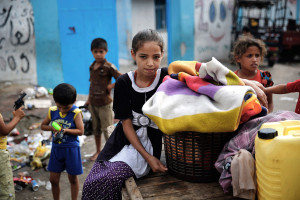 In a sign the US may be softening their attitude to Israel, President Obama has condemned the "abduction" of soldier Hadar Goldin, 23, by Hamas militants.
"We have and I have unequivocally condemned Hamas and the Palestinian factions that were responsible for killing two Israeli soldiers and kidnapped a third," said Obama. "If they are serious about trying to resolve this situation that soldier needs to be unconditionally released as soon as possible."
Hamas deny they are holding Goldin. In a statement Hamas's armed wing, the Qassam Brigades, said they had lost contact with some of their own fighters during the operation. "We believe they were all killed in the bombardment (by the IDF). Assuming that they (Hamas soldiers) managed to seize the soldier during combat, we assess that he was also killed in the incident."