Ask my friends, or indeed everyone around me, and they will all agree. "How are you doing?" is one of the most difficult, and annoying questions a Gaza resident might get.
My friend Fidaa Al-Zaanin put it beautifully when she said that it's not the question that annoys us, but the answer. "Because it's hard to express how do you feel while your area is being under attack, and not knowing whether you'll survive the day or not. It's obvious how I feel about that, I can't even answer that question!"
For me the question is infuriating, but the answer is simple. I'm psychologically and physically exhausted - and I'm just fine.
I currently live with five families in the same house, their biggest achievement is to sleep during the night, or have electricity for more than three hours and not run out of food. We no longer use fridges to store food, as the power outages continue, so we have to buy our food every day in the morning.
At first, when the bombardment began,everyone used to gather around the TV to watch the World Cup matches and fight over who deserves to win and lose. Then we'd switch to the news, worried sick about what the next days are going to be like, and how long we'd be away from our houses. But now the power plant stopped working and there is no TV to watch.
I go out during daylight hours in search of a place with electricity to charge my phone and get some work done. When I'm back home I find everyone gathered in one room, with a battery light hung in the middle of the living room. The children are playing cards, adults are listening to the tiny local radio and the youth are spending their time on the internet or talking on the phone, if there is a good network signal.
They sit in silence most of the time, just staring at each other with almost nothing to talk about in the middle of this mess.
A ray of light
But then, on 1 August, we got a glimmer of hope, when US Secretary of State John Kerry announced that Israel and Hamas have agreed to a 72-hour ceasefire in Gaza.
My sister woke me up in the middle of the night, shouting the war is over! It's something she wanted to say since 8 July, when it all started. We decided to go back to our house in the north of Gaza to see whether it had sustained further damage, and – if it was still intact - clean it, take a shower and sleep in our own house for those 72 hours. On our way home I saw many more displaced people from the northern area going back to their houses, having gained a temporary right of return.
When we arrived in our neighborhood, we found our neighbour collecting what has left from his bombed house, wondering why they would destroy an empty civilian house just because they suspected something was moving next to it.
Our house was even worse than the last time we saw it. No electricity, no water, no internet, no phone, there was nothing. But we ignored the damage, cleaned the house and waited for my father to come and fix the water tank that was hit by flying shrapnel.
After spending almost two hours in our house my friend called and told me that the ceasefire was broken and things might deteriorate once more. So I went out in the street to see that everyone was leaving their houses going back to wherever they came from: relatives' houses, rented apartments, UN schools, or simply the street.
There was a glimmer, just a glimmer, of hope that we are going back to sleep in our houses, and live normally even if it was just for 72 hours. Then the Israeli hellfire hit us again.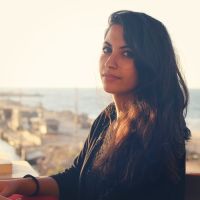 Walaa Ghussein is a journalist and activist who has written for several publications including Electronic Intifada.
You can find her on Twitter here.