While Hollywood still has a long way to go, it's safe to say that female-led movies are slowly becoming more common in the film industry. What with last year's Brooklyn and Room as well as recent Star Wars' blockbusters The Force Awakens and Rogue One breaking that metaphorical glass ceiling, fans are seeing more female stories told than ever before.
But there's always room for improvement, particularly when it comes to having women behind the camera; a notion that upcoming romance drama Their Finest addresses with its plot but also how it's inspired by the novel Their Finest Hour and a Half by Lissa Evans, adapted by Gaby Chiappe and directed by Lone Scherfig; all of whom are female. Its progressive undertones were something that drew star Gemma Arterton to the lead role, in hopes that they will start conversations amongst film execs and encourage more women to make movies.
"Maybe it'll inspire a new generation of writers, especially female writers as we need more of them," the 31-year-old told IBTimes UK during the film's press junket in London. "There are so many stories about women and girls that haven't been told that are waiting to be told, and a film like this just goes to show that there is an appetite for it. They can be fun and that people want to tell those stories."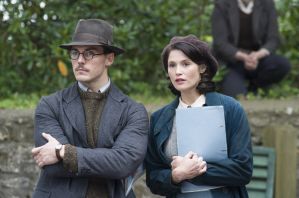 Set during World War II, Their Finest sees Arterton play Catrin Cole; a young copywriter who gets drafted in as a screenwriter by the Ministry of Information, in order to help make a propaganda film about the then-recent evacuation of Dunkirk in France. While working on the picture, she not only unexpectedly falls for her colleague – despite being married – but also discovers she's a bit of a dab-hand at penning scripts and portraying moving human tales on the big screen.
As Catrin proves herself in a male-dominated workplace, the film itself also ends up being a love letter to cinema too; never shying away from depicting how important it can be. Additionally depicting how movies can soothe, amuse or inspire all those who watch them.
"If the audience can take anything away from this film, it's that. It's that what a powerful tool film-making is and art is in general. It can completely change your life [or] make you feel alive," Arterton continued. "One of my favourite scenes is at the end of the film, when I [as Catrin] watch the film that I've made and I look around and see how it's affecting people. The pride. It's lovely; it's why we do what we do. I think, in these times, it's really important to make art because it really influences people. It can really really change the way we see the world."
Also starring Richard E Grant, Rachael Stirling, Sam Claflin and Bill Nighy, Their Finest is released in UK cinemas on 21 April.