Following in the footsteps of Porsche, Bentley has taken the bold decision of producing a sports utility vehicle (SUV), which it debuted at the Geneva Motor Show this week.
The EXP 9 F concept is an example of what a Bentley SUV would look like, rather than the finished product, but the level of detail and clear amount of thought that has gone into the prototype suggests that a production version may soon be in the works.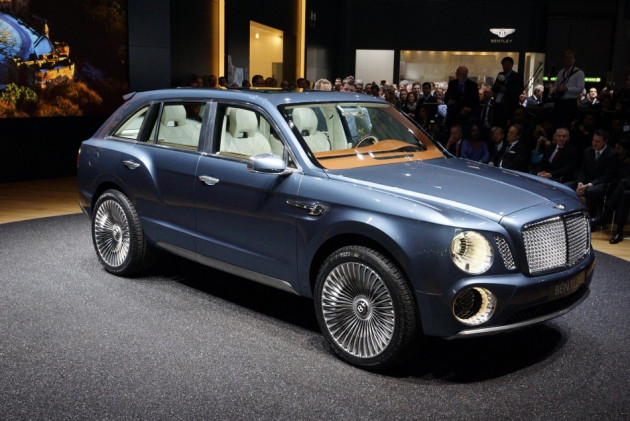 With the SUV concept Bentley says it is "literally moving into new terrain for the Bentley brand, just as we did 2002 when we presented the Continental GT to create a new category of car.
"Our vision for the SUV segment is equally ambitious: we want to be at the very pinnacle of this growing segment adding a car to this vehicle category that so far does not exist. With this dramatic new Sports Utility Vehicle concept we are offering a fascinating vision of the future."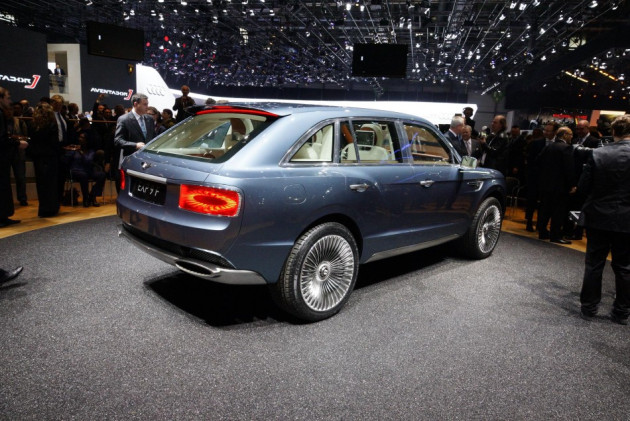 The EXP 9 F concept features many Bentley design traits carried over from the Continental GT and the new Mulsanne, but the SUV is significantly taller and with a much high ride height than its stablemates.
Although still very much a concept, the EXP 9 F would cost around £150,000 if it were to enter production. Bentley hopes to sell in the region of 3,500 to 5,000 units per year - last year the Mulsanne and Continental sold a total of 7,000 units between them, so the SUV could become the brand's most successful model.
Bentley has based the SUV concept around its 6.0-litre W12 engine, mated to an eight-speed automatic gearbox. While little else is known about performance - or indeed the weight, which will undoubtedly be vast - the SUV will certainly pack the performance punch customers would expect.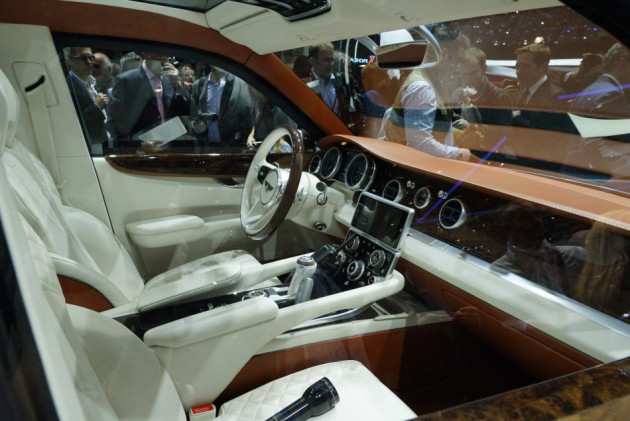 The SUV will need all the performance it can get, as it is set to be vast - 150mm longer than the Porsche Cayenne and a full 200mm longer than the Range Rover; the Bentley also sits 100mm higher than the Porsche but slightly lower than the Range Rover.
Bentley said that it would also offer the choice of a V8 diesel engine, or a V6-based plug-in hybrid powertrain.
The car's main competitors will be from Porsche with its Cayenne off-roader and Audi's Q7, as well as the Range Rover and perhaps even Ferrari's four-wheel-drive FF.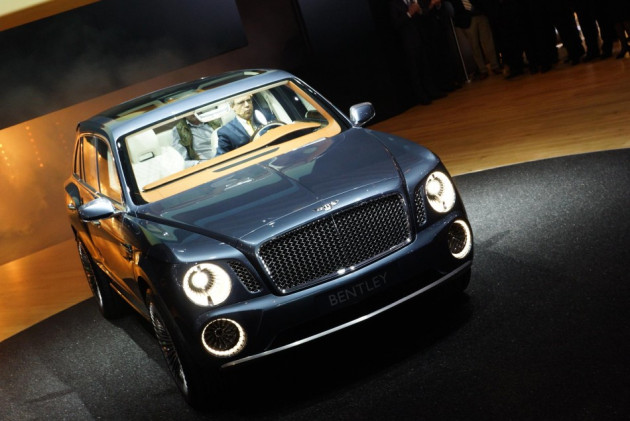 Mr Wolggang Duerheimer, chairman and chief executive of Bentley said: "From a designer's perspective, EXP 9 F was a dream project, the chance to create a completely new type of Bentley. From the very beginning, the design team had a clear vision for the exterior as well as the interior of this new concept."