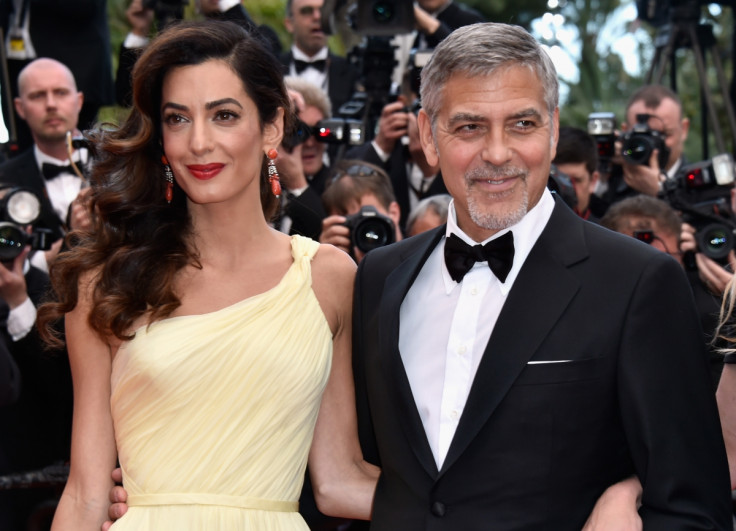 Amal Clooney risked a major wardrobe malfunction after a boat ride with George Clooney in Italy, where they are for the 74th annual Venice Film Festival.
The human rights lawyer looked flawless as she flaunted her impressive post-baby body during the outing with her husband. The couple welcomed their twins Ella and Alexander in June.
She, however, flashed a little more skin than intended when her evening dress rose up as she boarded the small boat on a canal, according to Daily Express.
The photo obtained by the news website shows the mother-of-two dressed in a strapless black gown with white polka-dot embellishments, while the Ocean's Eleven actor is seen in a grey two-piece suit.
When stepping out of the boat with her husband, 39-year-old Amal flashed plenty of legs and also appeared a little unsteady but managed to maintain her composure with the help of an assistant, who lent her a hand as she got off the vessel.
After becoming new parents, the A-list couple have been spotted in public only a handful of times. Their most recent outing was near Lake Como, where they enjoyed dinner and appeared in good spirits as they said their goodbyes to their friends who were with them.
George recently admitted that being a new parent is terrifying and revealed that he has been "changing diapers and walking them around a little bit".
"Suddenly, you're responsible for other people, which is terrifying," he told the Associated Press.
Clooney also gushed about his lawyer wife, who he thinks is "like an Olympic athlete".
"She's doing so beautifully," he said. "I really didn't think at 56 that I would be the parent of twins. Don't make plans. You always have to just enjoy the ride."