Former chancellor George Osborne has been roundly criticised by his fellow MPs over his decision to take up several lucrative jobs in the private sector, including one as the editor of London Evening Standard, after he was dropped from the cabinet by Theresa May.
Osborne's controversial appointment at the Standard while a sitting MP and before receiving prior approval from the Advisory Committee on Business Appointments (Acoba) triggered an official review by the House committee on standards in public life.
The Commons Public Administration and Constitutional Affairs Committee said that Osborne had set an "unhelpful example" by taking the job without waiting for Acoba's advice.
"This demonstrates disrespect for Acoba and for the business appointment rules and sets an unhelpful example to others in public life who may be tempted to do the same," the committee said.
"The only justification for a minister or civil servant taking public or private sector employment in a field for which they had responsibility is where they might be returning to or continuing to work in an occupation or profession where they already had an established track record and experience."
The committee warned that unless Acoba was given statutory powers of redress, the current system remains open to "similar abuses" in the future, the Telegraph reports.
"The failures of governments in this regard have damaged public trust in politics and public institutions and led to repeated scandals," the committee continued.
"Acoba in its current form is a toothless regulator which has failed to change the environment around business appointments."
George Osborne's jobs while MP for Tatton
Editor of the Evening Standard newspaper.
Speaker for Washington Speakers Bureau.
Chairman of the Northern Powerhouse Partnership, a government-backed body created with the aim to boost industry and trade in the north of England.
Adviser for the financial firm BlackRock.
Kissinger Fellow at the American thinktank the McCain Institute.
Osborne, who has since announced his decision to stand down as MP, had defended his decision to take up the editorship role. Parliament would be "enhanced when we have people of different experience take part in our robust debate and when people who have held senior ministerial office continue to contribute to decisions we have to make," he claimed.
The former chancellor earns £650,000 a year for just four days a month at the world's biggest fund management firm, Blackrock. He was also paid £786,450 in 2016 for giving 15 speeches, mainly to financial institutions.
He was unceremoniously dropped by May who appointed Philip Hammond as her chancellor in July 2016, after she took over as prime minister when David Cameron resigned over losing the Brexit referendum.
More than 600 ex-ministers civil servants appointed to 1,000 business roles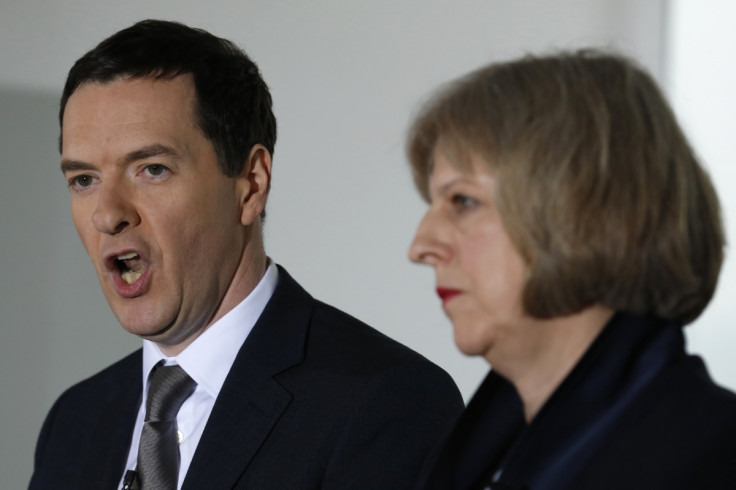 The committee is proposing that ministers and civil servants be banned from taking up jobs in the public sector that relate "directly to their previous areas of policy and responsibility" for up to two years to stop them using insider knowledge for personal gain, the Times reports.
It noted that 600 former ministers and senior civil servants had taken on 1,000 business roles after leaving office.
The committee is also asking whether rules on public-sector appointments should be regulated by law, making it illegal for civil servants and ministers to ignore decisions taken by Acoba.