George Osborne and Indian Finance Minister Arun Jaitley strengthen UK-India economic ties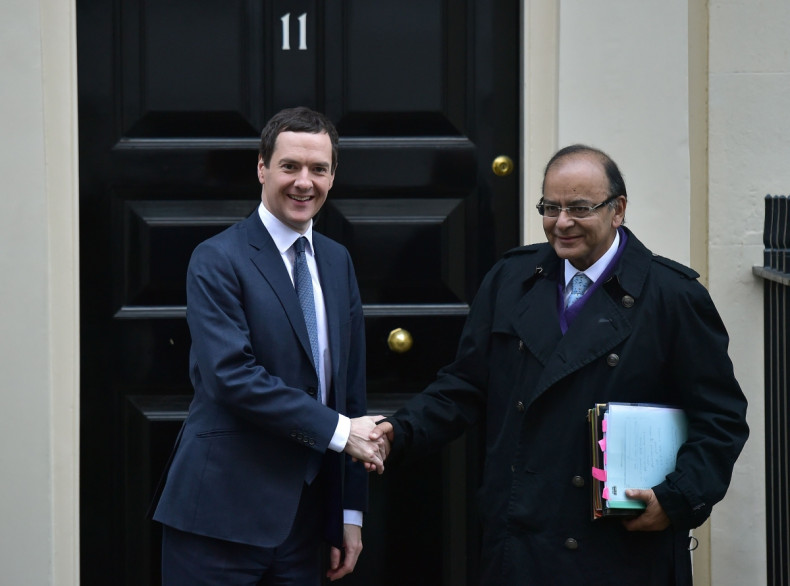 British Chancellor George Osborne and India's Finance Minister Arun Jaitley have agreed on a number of strategies to strengthen economic ties between the two countries. The two politicians stated that financial services, infrastructure and technology would be the focus of their agreements.
The agreements were made at the eighth UK-India Economic and Financial Dialogue held in London on 19 January. The talks are believed to have included senior representatives of finance ministries and central banks in an attempt to further boost trade and investment between India and Britain.
"I want to thank Arun and his team for travelling to London and for making today's talk a success, as we bring our two great economies closer together," said Osborne. Working together across infrastructures and financial services will be able to solve key shared challenges which will help us create growth in both of our economies."
One of the main agreements to emerge from the talks was the expansion of UK government support for infrastructure projects in India. While details of the infrastructure deal were not revealed, the UK is expected to invest in a number of smart cities, renewable energy projects and railway services in India. The initiative is expected to support development in India but also "present significant new commercial opportunities" for British businesses in offering infrastructure and financial expertise.
India has also agreed to press ahead plans to allow foreign lawyers the right to operate in the country. Apart from giving businesses access to international legal advice, the change to legal services in India will also allow UK firms operating in India to enter into partnership with Indian firms. Osborne commended the agreements as "another important step in deepening economic ties between the two countries".
A number of other agreements made during the talks will see British and Indian firms working more closely in a number of ways, including expansions of UK companies in India. BRC Global Standards is among those companies looking to expand in India and will be appointing a local representative and opening an office in India.
UK-based Templar Executives Ltd has also agreed on a cybersecurity training partnership with India's Cyber Security Integrators Pvt Ltd. The UK firm will provide advisory services to Indian corporations and government agencies in one of the first "Cyber Value Exchange" initiatives between the two counties.
The finance talks come two months after Indian Prime Minister Narendra Modi visited his British counterpart in London. The two leaders held a series of talks, which has since been hailed by India's High Commissioner to the UK as "a great thrust to political and cultural relations and boost to trade and investment between the two countries".