Addressing the Indian diaspora at Wembley Stadium on Friday (13 November), Prime Minister Narendra Modi was greeted by loud cheers as he took to the stage to praise India's diversity and outline the future of the country.
Modi was accompanied on stage by his British counterpart David Cameron, who addressed the 60,000 strong crowd of mostly British-Indians before Modi took the spotlight. While Cameron's words were met with cheers and applause, the audience reserved their loudest cheers for Modi. The event is said to have been the biggest gathering of Indian diaspora that Modi has ever addressed.
The Indian Prime Minister said: "The perception of India is changing. The world sees India as a land of opportunities. And we will make sure that our nation is shoulder to shoulder with the world."
Here are some of the highlights of the evening.
Modi speaks on 'diversity' as India's strength
The Indian Prime Minister spoke fondly about India's diverse culture, telling the audience that people often ask him how a country so diverse could live in harmony. Modi said that is India's strength and identity and added: "Wherever we go, we show people how to live in harmony and how to care for everyone."
The comments come at an awkward time as many protesters in the UK have been gathering to condemn increasing intolerance in India under Modi's rule. However, Modi's comments on diversity and harmony in India were met with loud cheers from the audience. Later in his speech, Modi also told the crowd not to believe everything that was in the headlines and that India was bigger than what was shown on television.
Cameron hails British-Indians' contribution to the UK
The British Prime Minister used his speech mainly to applaud the contribution Indians have made to the UK. He began by saying: "Prime Minister Modi, I hope you can see what I see every day – British-Indians putting the 'great' into Great Britain."
He also made the bold – and popular – comment that it wouldn't be long before the UK has a British-Indian Prime Minister.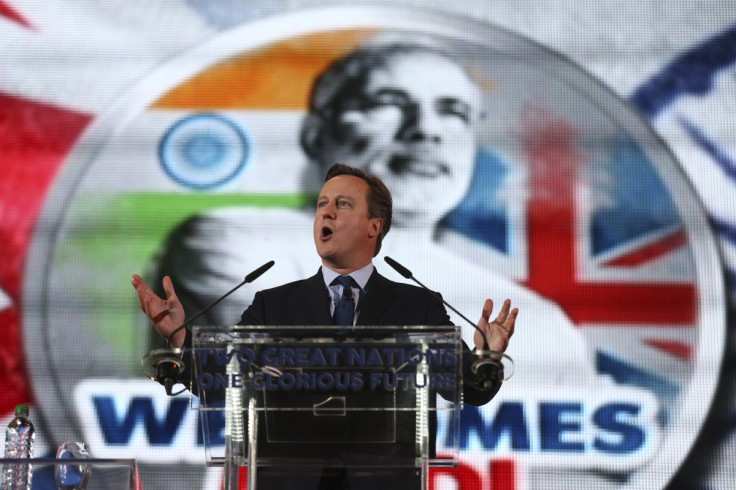 Cameron calls for UN Security Council
It wasn't just British-Indians who received praise from Cameron. The Conservative Party leader also hailed Prime Minister Modi and the Indian subcontinent, leading to him calling for India to be given a permanent seat on the UN Security Council. This will be an important announcement for the Modi government who have been trying to reform the Security Council for some time.
Direct flights between London and Ahmedabad
One of the most popular outcomes of the Indian Prime Minsiter's speech appears to have been his announcement about the fact that Air India will begin running direct flights between London and the economically important city of Ahmedabad in Gujarat. While the move was widely welcomed by those present at Wembley Stadium with loud cheers, many on social media commented that this proved Modi was still the Chief Minister of Gujarat – and not the Prime Minister of India.
Modi said: "When I was Gujarat Chief Minister, I was asked about inadequate facilities. When I came in 2003, I had facilitated a direct flight between London and Ahmedabad. I do not want to say what happened after that and don't know why it was stopped. Starting 15 December there will be a direct flight between Ahmedabad and London."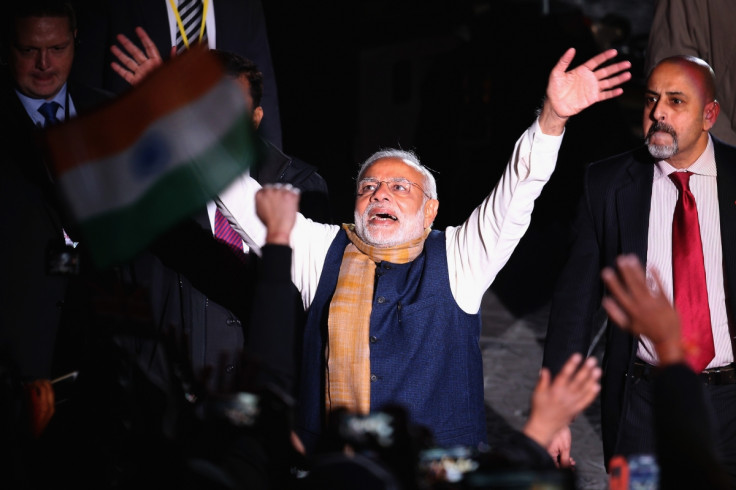 Modi's vision for India: A clean country and 24/7 electricity
The Indian Prime Minister told the audience that he had two dreams for India. One of them is to have a clean India. He noted that when he first began to talk about cleanliness in India, "people raised their eyebrows". However, he prompted the audience: "But if my Bharat Mata is clean, won't we all be proud and happy?"
Modi's second vision is a nation with 24/7 electricity for all. He pointed out that 18,000 villages in India currently have no electricity and pledged to ensure that every one of them gets the supply within the next 1,000 days.
He said: "If after so many years of independence there are villages with no electricity, should I do something to change that?"
India's economy and Foreign Direct Investment (FDI)
"We want to balance the two FDIs: Foreign Direct Investment and First Develop India," said Modi.
He proudly stated that India has opened up FDI for the Indian railways as they were not progressing as fast as they should have been. He also told the UK's Indian population that FDI into India had increased by 40%, displaying the "increasing international confidence in India".
On the economy, the Prime Minister said: "Whether it's the World Bank or the IMF, they all say India is the fastest growing economy. All rating agencies show positive feedback on India's economic growth. We are growing leaps and bounds in the eases of doing business."