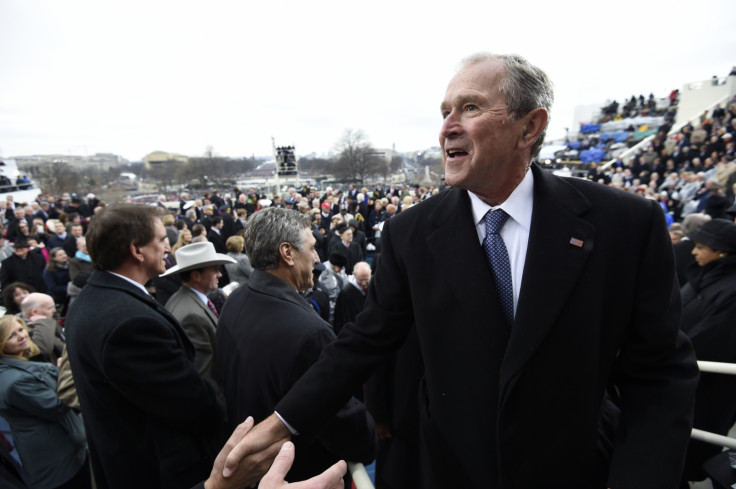 Former President George W Bush has gone on the offensive against Donald Trump, attacking the sitting US President's policies on immigration, press freedom and the ongoing Russian hacking scandal.
Speaking to the US' Today programme in his first interview since Trump's inauguration the last Republican president discussed current White House in clear but guarded terms.
On the issue of Donald Trump's recent pronouncements on the press – the president has called the media the "enemies of America" and banned critical publications from briefings – Bush said a free media was crucial to the balance of power.
"Power can be very addictive and it can be corrosive, and it's important for the media to call to account people who abuse their power," he said. "It's kind of hard to tell others to have an independent free press when we're not willing to have one ourselves," Bush added
The former president, who occupied the Oval Office between 2000 and 2008, did not openly condemn Trump's travel ban, which has seen the suspension of immigration to the US from seven majority Muslim nations. "I am for an immigration policy that is welcoming and upholds the law," Bush said.
Finally, the retired leader said questions needed to be answered over links between the Trump White House and the Kremlin. "I think we all need answers," he said on the issue. "I'm not sure the right avenue to take. I am sure, though, that that question needs to be answered," Bush added.
Bush has returned to the media spotlight to discuss a new book of paintings, "Portraits of Courage: A Commander in Chief's Tribute to America's Warriors". The book is a collection of drawings of veterans by the former president. All proceeds from the book will be donated to the George W Bush Presidential Centre, a non-profit organisation which helps veterans and their families.