George Zimmerman reneged on a deal to sell the gun used in the killing of Trayvon Martin, to sell it for $250,000 (£172,000). Zimmerman had previously accepted an offer of $150,000.
The amount Zimmerman's gun has been sold for was confirmed by UnitedGunGroup.com, which hosted the auction, on 21 May. One of the pistols – a Kel-Tec PF-9 9mm – cost around $350 new.
Zimmerman had been set to sell the firearm to Florida bar owner, Denny Honeycutt, for $150,000 but he backed out of the deal. Honeycutt told the Dayton Beach News-Journal: "I thought he was a man of his word."
Honeycutt said that the new buyer was a woman who wanted the gun as a birthday present for her son. Zimmerman said that he would not reveal the buyer's identity and that it was the buyer's decision whether or not to stay anonymous.
Zimmerman shot Trayvon Martin, an unarmed black teenager, with the pistol in 2012. Zimmerman was charged with second-degree murder and manslaughter but was acquitted. His defence lawyer said that he had fired in self-defense.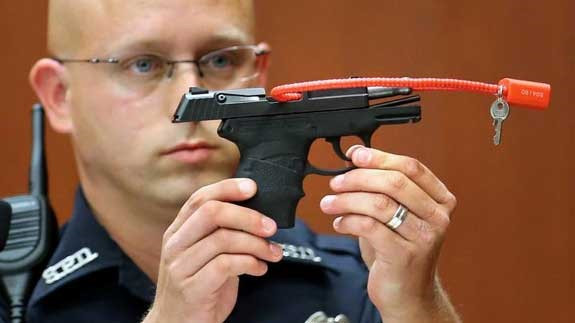 The sale has attracted much criticism. The auction itself had a number of hoax bidders with names like "Racist McShootface" bidding amounts up to $65m (£45m) according to the BBC. Benjamin Crump, lawyer to the Martin family, called the sale "offensive, outrageous and insulting".
The killing became an important point in the creation of the Black Lives Matter movement in America. Zimmerman described the gun on the auction site as a "piece of American history" and "American Firearm Icon". He said it was used to "defend my life and end the brutal attack from Trayvon Martin".