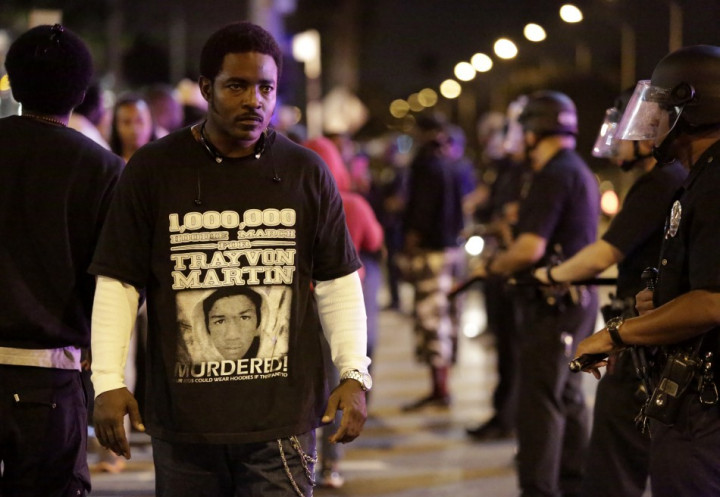 Protesters have rampaged through the streets of Los Angeles for a second successive evening after the acquittal of George Zimmerman in the fatal shooting of Trayvon Martin.
Thousands took to the streets, vandalising shops, breaking windows and stopping traffic. The Los Angeles Police Department issued a tactical alert in the evening and later declared an unlawful assembly, arresting protesters who refused to leave the area.
The protest began in the early evening as a "prayer rally" in Leimart Park that was organised by Project Islamic Hope. However police officials said around 150 people left the peaceful gathering and started committing vandalism and assaults.
There were reports that police fired non-lethal - bean bag - baton rounds after demonstrators threw rocks and batteries at officers. The LAPD arrested 13 people for assault, vandalism of property and vehicles.
In the area of Oakland, there were standoffs with the police, chants of "f**k the police" and "go home pigs". Protestors also burned the American flag and chanted "Trayvon Martin".
The unrest in Los Angeles, which comes after consecutive nights of mostly peaceful protests in cities like New York, Oakland, Chicago, Washington and Atlanta, brings back memories of widespread rioting in 1992 after a team of police officers were acquitted of beating African-American Rodney King.
The city's mayor Eric Garcetti cut short a planned trip because of the unrest and he appealed for the protesters to remain calm, following the example of the earlier prayer vigil.
"I commend the prayer rally attendees in Leimert Park for practicing peace. I call on people in street on Crenshaw to follow their example," he said in a Twitter posting. He later tweeted: "We should respect Martin family's call for peace. Unlawful assembly declared. Police are clearing area."
At a news conference, the mayor said that 13 people had been arrested.
After the verdict, in which Zimmerman was found not guilty of murder after jurors accepted his claim that he shot Martin in self-defence, the teenager's parents Sybrina Fulton and Tracy Martin were "heartbroken and devastated," their lawyer said.
Zimmerman is in hiding, and according to his defence team, he has not claimed the Kel-Tec PF9 semi-automatic pistol used in the shooting, which the court had ordered to be released.