Two policemen in Georgia have been fired by the Gwinnett County Police Department (GCPD) after a video was published showing them assault a detained motorist.
Sgt Michael Bongiovanni, a servant of the force for 19 years, and officer Robert McDonald were dismissed for attacking Demetrius Hollins, after the motorist was pulled over in traffic for not having a number plate.
Bongiovanni arrested the man when he claimed to smell marijuana on him, but alleges that Hollins refused to be detained so the officer shot him with a Taser.
The veteran policeman then called called for back up and a response call was answered by McDonald, who preceded to kick Hollins while he was handcuffed on the ground.
A second video shows Bongiovanni punching the motorist in the face as he exits his car.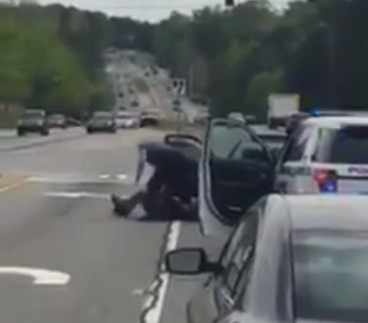 Police Chief Butch Ayers said: "What I viewed on that video disturbed me, as it disturbed everyone that witnessed that video.
"The suspect in that video was lying down he was clearly handcuffed, he was clearly not resisting and he was not a threat to anyone.
"What happened yesterday, at the hands of one of my former officers, was embarrassing – not only to the Gwinnett County Police Department – but to all law enforcement."
Ayers admitted his disappointment at the actions of his officers, despite investing in extensive training to ensure proper police behaviour.
"We've put a lot of money into recruiting, training and equipping them, and there is literally no excuse for behavior like this. This is not what we teach in the academy.
"This is not what we expect from our officers and we aren't going to put up with it."
Responding in his incident report, Bongiovanni argued that Hollins had struggled by bending his waist and trying to push him away, and also added that he had previously arrested the same man at another routine stop and found a loaded firearm under his seat on that occasion.
GCPD announced it will move forward with a criminal investigation into the incident.