Eight Leicester City supporters have been handed four-month suspended prison terms after they clashed with Spanish police in Madrid on Tuesday (11 April) ahead of their Champions League quarter-final clash.
The Foxes were up against Atletico Madrid in the Spanish capital in the first leg of the tie when violence erupted in Madrid's Plaza Mayor.
Pictures and video emerged on social media of blooded fans amid reports that police officers and two English fans were injured in clashes.
It was also reported that Spanish police charged sections of the Leicester fans wearing body armour and wielding batons, with some fans throwing objects in return.
Leicester fans were heard chanting, "Spanish b*******, Gibraltar is ours!" during the incident, in reference to sovereignty tensions over the Rock between Spain and the UK which have been reignited since Article 50 was triggered.
Social media videos showed a blue smoke bomb let off in the square, with English fans claiming police used tear gas and rubber bullets against them.
Spanish police confirmed on Wednesday (12 April) that eight Leicester fans were arrested for what they described as "causing a mess".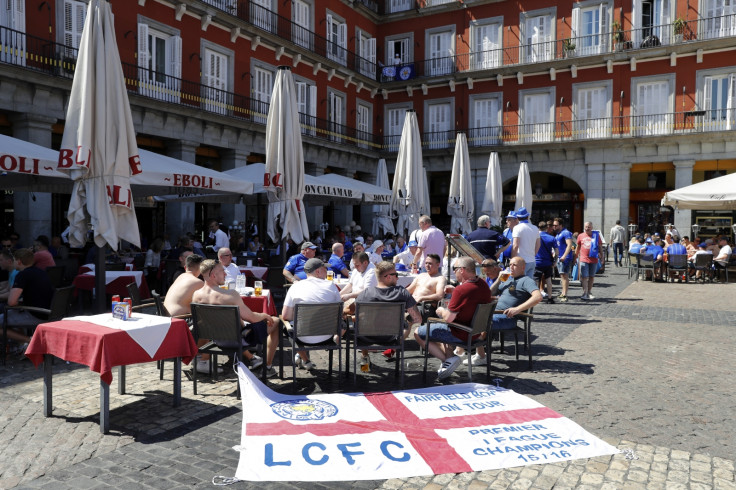 AFP reports that Madrid prosecutors dealt with the cases quickly as the fans involved admitted the charges in exchange for more lenient sentences.
The news agency said that the eight who were charged appeared in a Madrid court after spending nearly 40 hours in detention after being arrested on Tuesday.
Leicester's official fan allocation was around 2,800 for the match at the Vicente Calderon, which ended 1-0 to the hosts, thanks to a disputed penalty.
It is believed that several thousand Leicester fans had travelled to Madrid without tickets.
Leicester City said that they are collaborating with Uefa and Spanish authorities to discover the "full facts" behind the incident.
"We are working with UEFA and the local authorities to establish the full facts of what took place and the reasons for the police response," a Leicester spokesman said.
"We will also be liaising with travelling supporters before deciding on any course of action."