Update: A public notice released by the Federal Criminal Police Office (BKA) is offering a reward of up to €100,000 (£84,000) for information about the Tunisian man, in connection with the terror attack on a Christmas market in Berlin.
A European arrest warrant from Germany seen by The Associated Press, indicates the suspect, identified with the full name Anis Amri, has at times used six different aliases and three different nationalities. The authorities warn the suspect may be "armed and dangerous".
German police started searching for the man after his name appeared in immigration documents found in the truck used to plough through a crowd, killing 12. The documents, as initially reported by German media, belonged to a man born in 1992 in the southern Tunisian town of Tataouine, known as a hotbed of radical Islam, called 'Anis A'.
It is important to treat this information with caution, as the papers found in the truck may not belong to the actual attacker, and may have been planted to leave a false trail for the investigators. Finding the man named in the documents will offer more clarity as to the degree of his involvement in the attack.
The police is reportedly searching hospitals in Berlin and the neighbouring state of Brandenburg as they believe the attacker may have been injured in a possible struggle with the man found dead in the passenger seat of the truck.
According to the Süddeutscher Zeitung, the man initially travelled to Italy and arrived in Germany in July 2015, where he applied for asylum. He then got a temporary permit in April 2016.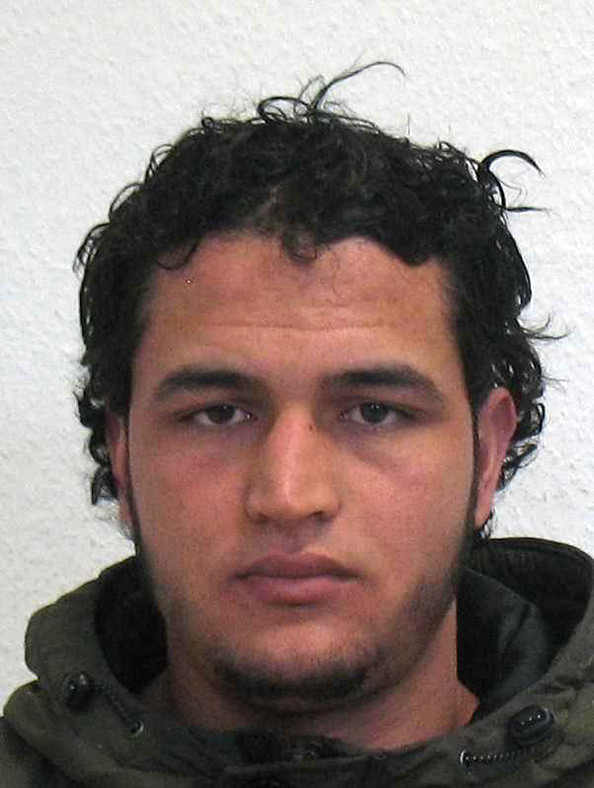 But according to the newspaper Spiegel, it is unclear when the man entered Germany. The German newspaper quoted confidential documents showing that Anis A. was due to be deported, but there was no indication as to whether the deportation was actually carried out.
Based on the information available, German media report the man is involved in a larger Islamist network linked to Islamist preacher Ahmad Abdulaziz, better known as Abu Walaa. The man was arrested with other four alleged accomplices in Lower Saxony and in North Rhine-Westphalia in November, accused of recruiting fighters for the Islamic State (Isis).
According to the media reports, Anis A. was close to one of the men who was arrested with Abu Walaa, the German-Serb Boban S. Multiple reports on Süddeutscher Zeitung and local public broadcasters WDR and NDR claim the police had classified Anis A. as a potential threat and was monitoring his communications. It remains unclear how the authorities could have lost track of the man.
German media also report that Anis A. had sought advice as to where to buy a weapon from a man, who was an informant of the North Rhine-Westphalian police.
The police is now planning an "imminent" operation in the western state of North Rhine-Westphalia related to the attack, German news agency DPA reported on 21 December.