Germany's finance minister has compared Turkey to communist East Germany after Ankara jailed a German human rights activist.
Earlier in July, German national Peter Steudtner was detained along with seven other human rights activists and two trainers during a digital security and information management workshop at a hotel in Büyükada island, near Istanbul. Those arrested include Idil Eser, the director of Amnesty International's Turkish section.
On 18 July, Steudtner, Eser and four other activists were remanded in custody pending trial on terrorism charges.
"It reminds me of how things used to be in East Germany," Finance Minister Wolfgang Schaeuble told Bild newspaper, according to AP. "It was clear to anyone who travelled there: if something happens to you, no one can help you."
He warned Germans travelling to Turkey that they would do so at their own risk unless Turkey stops playing "games".
Steudtner's arrest and detention has enraged Germany and it is likely to deteriorate relations between the two countries. Earlier this month, Berlin summoned the Turkish ambassador and raised the possibility of suspending aid sent to Turkey.
In response, the Turkish Foreign Ministry claimed Germany was interfering with Ankara's national affairs and judiciary system.
"There was direct interference in the Turkish judiciary and comments used which overstepped the mark," Turkey's foreign ministry said, according to Reuters.
"The comments again show the double standards in their approach to the law of those who prevent terrorists being brought to justice while embracing members of terrorist groups which target our country," the ministry said.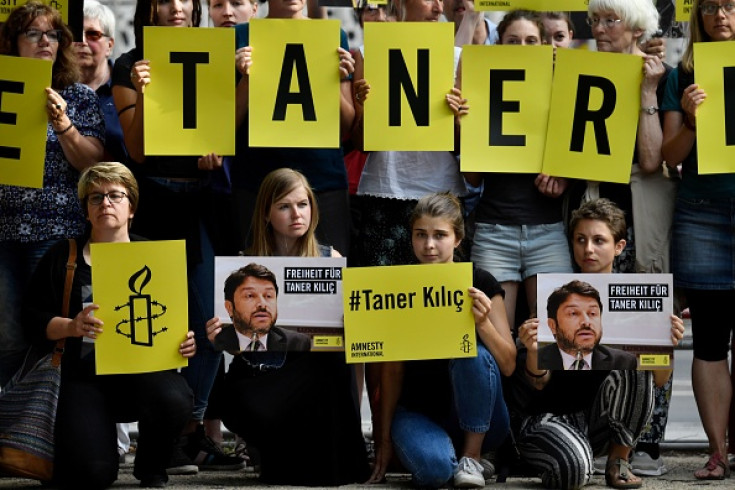 The six rights activists are among 50,000 people who are held in prison pending trial in Turkey, arrested following a failed coup d'etat that resulted in the deaths of at least 265 people last July.
Following the failed attempt to overthrow the Erdogan government, Turkey has cracked down on people suspected of being affiliated with US-based cleric Fethullah Gulen, accused of being behind the failed coup. He denies the allegations.
Human rights groups have accused Turkey of curbing freedom of speech and curtailing other freedoms after sacking thousands of civil servants, academics, police and army officials.
Following an April referendum that granted President Recep Tayyip Erdogan sweeping new powers, the country has suspended at least 14,000 civil servants, police and military personnel. Amnesty International has openly criticised the crackdown and is calling for the release of Eser and the other activists.
Eser's arrest came weeks after Turkish police arrested Amnesty's Turkey chair Taner Kiliç. He was charged with membership of a terrorist organisation after being accused of using an encrypted messaging application called Bylock, which the government says is used by followers of the US-based cleric Fethullah Gulen. Kiliç denied the allegations.