German minister Sigmar Gabriel defends giving obscene hand gesture to right-wing protestors
Germany's Minister for Economic Affairs and Energy stuck his middle finger up at protestors.
A video, posted a few days after it happened, shows Sigmar Gabriel facing the a mob of right-wing protestors who are shouting at him, before laughing and raising his middle finger to the men and turning away.
The publication of the video appears to indicate the protest was organised by the Young National Democrats, which is a branch of Germany's far-right party the NDP.
At the time of the incident, a party spokesperson for Gabriel, 56, said his reaction to the protesters had been "emotional". However, Mr Gabriel told a German television channel his only mistake had not been issuing the sentiment with both hands, rather than one.
Gabriel, who is Angela Merkel's second-in-command, made the gesture to a group of right-wing protesters, who he referred to as 12 "young, aggressive, swearing and ready-for-violence Nazis".
He said he questioned how his critics would react if confronted by the same situation.
In the video, the men can be heard shouting at Gabriel, calling him a "cultural Marxist" and a communist. They also refer to Gabriel's father – who he has admitted was a sympathiser of Hitler's Nazi government and a holocaust denier until his death in 2012.
The men shouted at Gabriel: "Your father loved his country, and what do you do? You destroy it."
As Germany has witnessed a resurgence of far-right groups in recent months, and as a supporter of Angela Merkel's open-door policy in response to the Syrian refugee crisis, Gabriel has born much of the brunt of an increasingly anti-migrant backlash.
On Saturday, members of the far-right Identarian Movement scaled Berlin's Brandenburg Gate, where they hung a banner in protest against the "Islamisation" of Germany because of the levels of immigration. A recent poll also showed more than half of the country's population did not agree with Merkel's policy.
At the time of the incident involving Gabriel and the protestors, his party issued a statement, which said: "Obviously Sigmar Gabriel does not regard that gesture to be an appropriate form of everyday communication, but communication was not possible with bellowing neo-Nazis who were clearly prepared to use violence."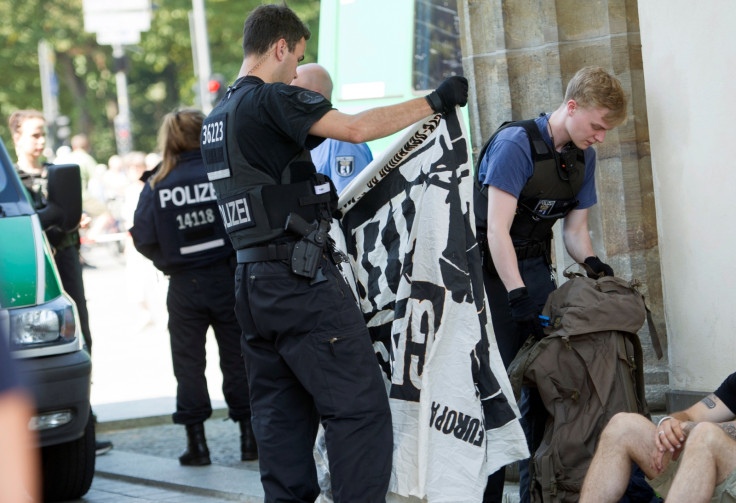 © Copyright IBTimes 2023. All rights reserved.