A German newspaper has issued anti Donald Trump stickers reading "Horror Clowns? No Thanks" ahead of the G20 summit in Hamburg.
Daily tabloid the Hamburger Morgenpost included the large yellow stamps on its front page today (5 July) underneath the headline "Stick one to Trump".
Police are bracing themselves for violent protests in Germany's second largest city as leaders from the world's 20 leading industrialised nations meet to discuss trade and other global policies.
The sticker is a reference to an anti-nuclear slogan from the 1980s, "Nuclear power? No thanks".
It is not the first time the left-leaning newspaper has referred to Trump as a 'horror clown'.
On 9 November, as Europe woke up to news that Trump had won the US presidential election, the Morgenpost ran the headline: "Do not ask the horror clown".
G20 summits have long provided a focal point for anti-globalisation and environmental activism. However, this year is expected to see increased protest as Trump makes his first appearance representing the US.
As many as 100,000 people are expected in Hamburg on Saturday for the "G20 Not Welcome" march.
On Sunday, police seized an arsenal of weapons from two addresses in Hamburg, including knives, precision slingshots, pyrotechnics and flammable liquids. Two men, aged 26 and 30, were arrested.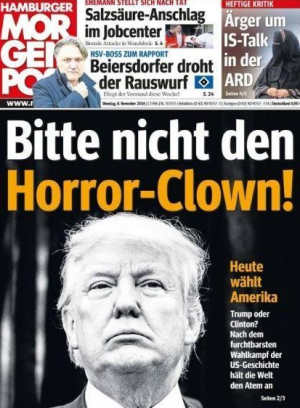 There are fears the march could spill over into a repeat of the bloody scenes witnessed at the 2001 G8 meeting in Genoa.
Those demonstrations, considered the peak of the worldwide anti-capitalist movement, resulted in 500 injuries and 329 arrests.
The Morgenpost was founded by Germany's Social Democratic Party (SDP) in 1949 but is now owned by a private publishing company.
The SDP is one of two major political parties within Germany. Its leader Martin Schulz is hoping to dethrone Angela Merkel as German Chancellor later this year.
The Morgenpost's offices were subjected to an arson attack in 2015 after republishing cartoons depicting the prophet Muhammed that had featured in the French magazine Charlie Hebdo.