German prosecutors, probing whether Deutsche Bank employees gave misleading evidence in the civil lawsuit brought by the heirs of late media mogul Leo Kirch, have expanded their investigation to include a second bank board member.
Prosecutors said the investigation into attempted fraud by Deutsche Bank employees in the Kirch case will now include Stephan Leithner, who currently oversees legal and regulatory affairs, compliance and human resources at the bank.
Leithner was working as an investment banker at Deutsche Bank when Kirch's media empire collapsed in 2002.
This week prosecutors conducted a fresh raid of Deutsche's main offices and also searched the home of an unnamed suspect in the state of Hesse, home to Deutsche Bank's Frankfurt headquarters.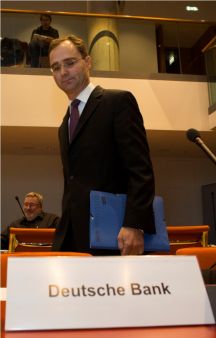 The offices of law firms linked to the Kirch case were also recently searched.
Pursued by Reuters, Deutsche Bank refused to comment on the addition of Leithner in the probe. The bank confirmed its offices had been searched but refused to provide details.
Law firm Gleiss Lutz said its Munich offices were subjected to a search last week.
Law firm Hengeler Mueller, which had advised Deutsche Bank, said on 24 March that its Frankfurt offices had been searched last week.
The inquiry also includes Deutsche Bank co-chief executive Juergen Fitschen, his predecessors Josef Ackermann and Rolf Breuer.
Leo Kirch Settlement
Deutsche Bank agreed in February to settle a 12 year long lawsuit by pledging to pay €925m to Kirsch's estate, after the former head of the media empire blamed the bank for his group's collapse.
Leo Kirch claimed that the bank's former CEO Breuer triggered his group's collapse after he questioned the company's creditworthiness in a 2002 TV interview at the World Economic Forum.
Kirch claimed that, since Breuer was also then chairman of Germany's private-sector bank association, his comments delivered a warning signal to other creditors and therefore hurt his company's future financing.