Germany: Anti-Islam Pegida protest rally draws record 25,000 in Dresden
The 12<sup>th anti-Islam protest rally took place in the eastern German city of Dresden on Monday night (12 January) drawing its biggest crowd yet as organizers declared the rally a tribute to the victims of the Paristerrorattacks.
Patriotic Europeans against the Islamisation of the West (Pegida) protesters gathered in the eastern German city were seen carrying banners carrying the names of the journalists killed in the Charlie Hebdo attack in Paris.
While organisers said an estimated 40,000 people participated in the march, Dresden police quoted the figure at over 25,000 people — a large increase from 18,000 protesters on 5 January.
Lutz Bachmann, the founder of the Pegida movement, took to the group's official Facebook account to post a statement saying: "Good evening Dresden, warmly welcome to our 12th walk against religious wars, religious fanaticism and even more for the freedom of expression!
"We have stirred up a lot of dust and woken up a considerable part of the population. We have managed to awaken the silence in politics after 50 years on immigration issues, which were discussed only quietly in backrooms.
"We are subject of all newspapers and news broadcasts of the world, we are subject of the Christmas and New Year speeches of our political elite. This is a huge success."
Bachmann also stated Pegida's six "clear" demands for politicians, including the creation of an immigration law along the lines of Canada or Switzerland, systematic expulsion and a re-entry ban for Islamists and religious fanatics, and an end to the war-mongering against Russia.
Pegida protesters also took a moment of silence to remember the victims of the Charlie Hebdo attacks.
Critics, however claim the group is using the attacks to attract more supporters with German Justice Minister, Heiko Maas, urging the organizers to cancel the protests.
"The victims do not deserve to be abused by such agitators," Maas told German newspaper Bild.
The head of Germany's CSU party, Horst Seehofer, also took to the television channel ARD and said: "I want to request those responsible ... that they cancel their demonstrations for the foreseeable future, especially at a time when the whole world is shocked about the events in Paris."
According to Dresden police, the number of anti-Islam protesters attending Pegida rallies has grown from an estimated 350 on 20 October to 18,000 on 5 January, reported CNN.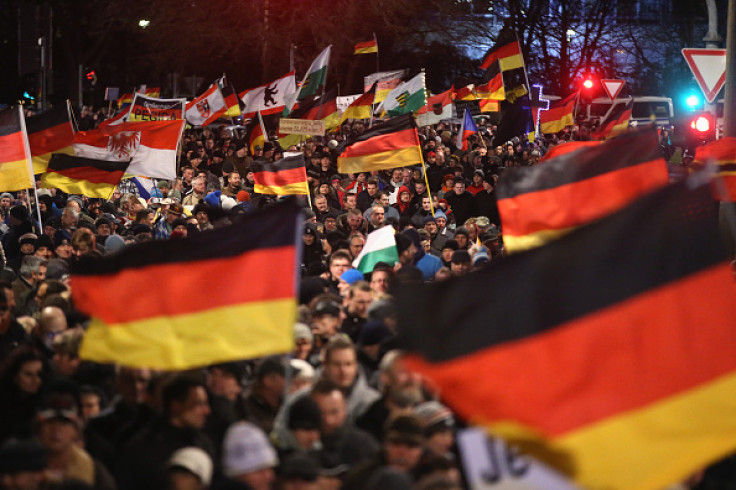 © Copyright IBTimes 2023. All rights reserved.