Weekly protests by a group campaigning against what it sees as the "Islamisation" of Europe have been taking place on Mondays for the last few months in Germany. Until recently, Patriotic Europeans against the Islamisation of the West, or Pegida, were relatively unknown. But this week, a record-number of supporters turned out for demonstrations across four German cities – in one of the largest anti-Islam rallies Europe has ever seen.
Around 18,000 people took part in the march on Monday (5 January) in Dresden, waving Germany's black, red and gold flag and brandishing posters bearing slogans such as "against religious fanaticism and every kind of radicalism".
But does Pegida pose a real threat to Germany's social and political landscape, or is it simply a populist movement with a limited life span?
Blame
The protests are alarming, not because there is the possibility of such right-wing extremist groups coming to power, but because they represent a growing strain of intolerance. A poll of 1,006 people by Forsa for Germany's Stern magazine in January found that 13% would attend a local anti-Muslim march. It also found that 29% of people believed that Islam was having such a significant impact on life in Germany that the Pegida marches were justified.
In a similar vein to anti-Semitism in the 1930s when Germany's economy was in the clutches of the Great Depression, the current demonstrations against Muslim immigrants are a scapegoat for Germany's woes – the financial crisis, unemployment and crime. As public spending is cut back and unemployment grows, some have pointed the finger of blame at immigration.
Partly in response to its Nazi past, German asylum rules are among the most liberal in the world. The country is now the world's second most popular destination for immigrants after the United States, and in 2014, the number of asylum-seekers arriving in the county surged to around 200,000. Net immigration has hit a two-decade high, fuelled by conflict in Syria and Iraq.
Khalil Charles, director of media and commentary at the Muslim Association of Britain, told IBTimes UK that the sudden rise of extremist groups like Pegida is nothing new.
"I think that what we're seeing in Germany is what we have seen in Britain, for example, where there has been a backlash against international situations that Muslims are involved in, such as the rise of Isis," Charles said.
"In Britain, the British National Party managed to get elected in Keighley West – on the backlash of accusing Muslims of grooming young girls. Of course we know that grooming is a problem nationwide, but it served the BNP purpose to say that it was a Muslim problem. It is a quite a clever thing to have done in that sense."
"What we are seeing in Germany are those kind of right-wing tendencies that are raising their head," he added. "I don't believe in any way that Pegida is a legitimate movement – it can be likened to the other right-wing extremist causes that we have been headed by Breivik in Norway, the English Defence League in the UK."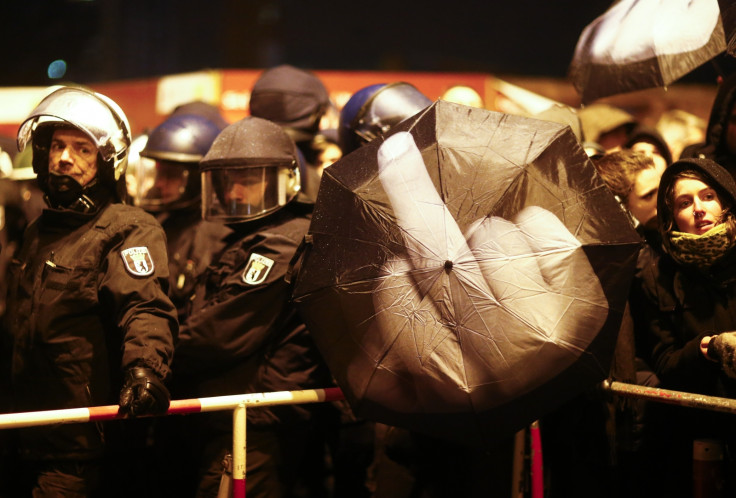 Majority views
Yet despite speculation of the rise of Neo-Nazism, Pegida's extremist rhetoric by no means represents the views of the majority of Germans. In the Forsa poll, two-thirds of Germans said Pegida was exaggerating the issue of immigration.
Senior politicians, such as the German Chancellor Angela Merkel and her predecessor Gerhard Schroeder, have decried Pegida and urged citizens not to be drawn in by the group's hyperbole on Muslims and immigration.
"Do not follow people who organise these, for their hearts are cold and often full of prejudice, and even hate," Merkel appealed in a speech on New Year's Eve. As a former East Germany resident, Merkel condemned Pegida's so-called "Monday Demonstrations" - a reference to the 1989 demonstrations that eventually led to the fall of the Berlin wall.
Numbers can also be misleading. While 18,000 supporters turned out in Dresden, only around 250 showed up in Cologne. Instead, thousands of counter-demonstrators lined Cologne's historic Hohenzollern Bridge, holding placards reading "refugees welcome", "no Nazis here" and "I heart immigration".
With the exception of a minority, Germany's response to Pegida was rigid. Cities were plunged into darkness as the country's most prominent landmarks turned off their lights on Monday night, in protest against extremism.
Unfounded Islamophobia
Pegida's banners and chants warn that the West's future is Islamic if demographic trends continue, but the group's argument has no founding. Only around 5% of the German population are Muslim. In the city of Dresden, once the powerhouse of eastern Germany's economic revival – and now the birthplace and centre of Pegida – only 0.4% of the population is Muslim. Because of these facts, Pegida has been dismissed by the majority of citizens.
But there is more to Pegida than Islamophobia and the supposed erosion of Western cultural identity. It also has complaints about immigration and asylum seekers, mainstream political parties and the media. Towards the end of the group's 19-point "manifesto", Pegida attacks political correctness itself.
Pegida claims to be peaceful, but its subtext is packed with hatred and xenophobia – disguised as concern for "protection of Judeo-Christian culture in the Western world". In the last few months, the group has been linked to violence, including a knife attack on a group of young migrants at a shopping centre after a rally in Dresden in December.
The group's supporters say they represent a spectrum of German society, but according to the critics, the movement is nothing more than dressed-up "pinstriped Nazis". It may have garnered the support of hooligans by providing a front for covert xenophobia, but Pegida has been boycotted by the majority of reasonable, logically-minded Germans.
"Pegida and other such groups will likely be around for a little while yet – which is disappointing," Charles added. "But we forget that people do not buy into the hype about such groups."