Germany: Bavarian town residents send busload of Syrian refugees to Angela Merkel's office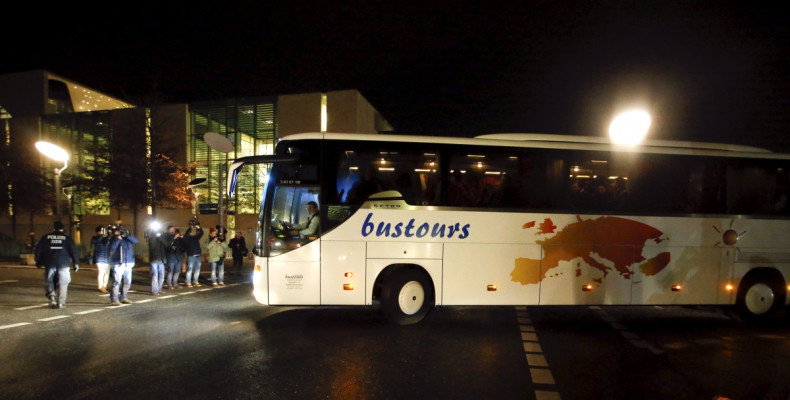 Unhappy with the refugee situation in their town, the folks of Landshut in Bavaria decided to send Chancellor Angela Merkel a message in the form of a busload of refugees. As many as 31 Syrian migrants were transported to Merkel's office as the town's way of protesting against her open-door refugee policy.
Landshut mayor Peter Dreier organised the seven-hour journey to the Chancellery, calling it "an act of desperation". Residents too warned him "it's time we set a limit".
"We are trying to help these people integrate. But that won't work if this year we face another wave of one million, or even more," Dreier added. "I think that we have to ensure the humane treatment of these refugees," Dreier told Reuters upon his arrival in Berlin. "On this scale and within such a short time we simply can't guarantee that anymore."
The bus was greeted by reporters and media but no government representative, which Dreier claimed was an "attempt to ignore and negate" the situation.
Responding to the incident, Merkel's spokesman Steffen Seibert explained that it was the responsibility of the state and the local government, for which they were provided additional federal funding.
"The government is aware that the current number of refugees is posing significant challenges throughout Germany and especially in Bavaria," Seibert said.
Confusion prevailed after the authorities did not know where to house the refugees and planned to send them to one of the camps in Berlin. The German newspaper Die Welt reported that Dreier eventually paid for their immediate accommodation at a hotel.
Following the mass sexual attacks in Cologne and other cities on New Year's Eve, Germans are getting increasingly frustrated with the flow of migrants into their country. Approximately 1.1 million refugees have gained asylum in Germany and thousands continue to enter the country.