A migrant was shot when an as-yet unidentified assailant apparently opened fire on a centre for refugees in the German town of Dreieich near Frankfurt. The 23-year-old migrant, who was sleeping in a part of the centre housing 14 Syrians and an Afghan, was taken to hospital with a minor wound but released soon afterwards.
Some 30 migrants are housed at the centre, 15 single men in one section and four families in another. One migrant told a local news channel he saw a hooded figure open fire with a handgun. As yet no arrests have been made and authorities have been unable to find a motive for the gun attack, which took place at 2.30 am on Monday (4 January).
Around six shots were fired in total and police are hunting the assailant, whose motives are not yet clear. However Darmstadt prosecutors' spokeswoman Nina Reininger said: "If someone shoots at housing which has people inside, I assume that it is a targeted attack." She added: "This was a deliberate attack which was a serious danger to residents of the shelter."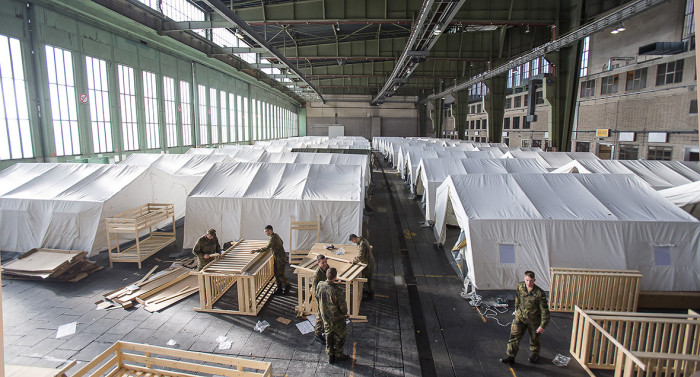 In the last year more than one million refugees have reached Germany, mostly fleeing the conflict in Syria. Although many Germans have welcomed the migrants, there have been a number of arson attacks on centres and demonstrations by anti-Islam group Pegida which is alarmed at what they see as the Islamisation of Europe.
Chancellor Angela Merkel is coming under increasing pressure over her support for the wave of immigrants, which has seen the largest movement of people in Europe since World War II and led to suggestions the Schengen zone may be doomed.
Suggestions that at least one of those involved in the Paris attacks entered Europe posing as a refugee have also fuelled concern across the continent.