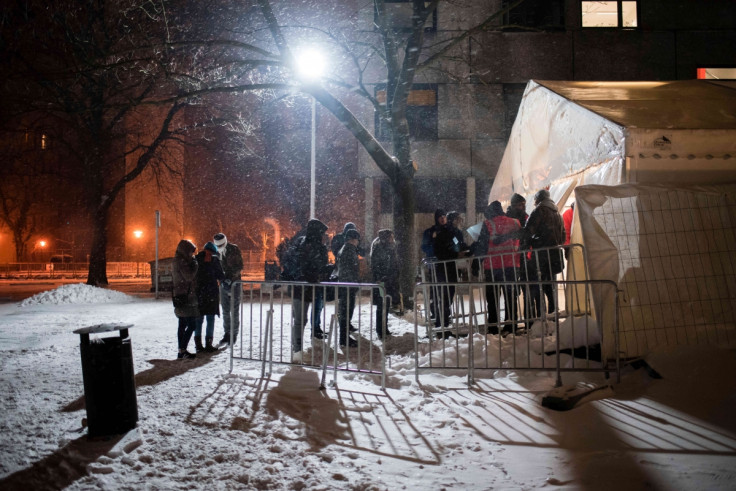 A German volunteer who claimed a Syrian died while queuing for days outside a Berlin refugee centre made up the story, police have said. Reports a 24-year-old man had a heart attack as he waited in sub-zero temperatures spread over the internet and in national newspapers when it was shared by the volunteer on social media on Wednesday (27 January).
The individual claimed the man had been waiting outside the State Office of Health and Social Affairs (LAGeSo) in Berlin. He allegedly contracted flu-type symptoms after waiting in the cold for days to see an official, and died on the way to hospital after suffering a heart attack.
But a Berlin Police spokesman said the volunteer responsible for spreading the story – which sparked tributes from across the world – has now "admitted he made it all up". The individual was questioned after police, and officials could find no record of a refugee dying.
Berlin's Senator of the Interior Frank Henkel said the volunteer – whose announcement on Facebook sparked a frantic search of hospitals by local authorities and the police – should be punished. "This is one of the lousiest and most perfidious acts I have ever witnessed," Henkel told reporters. "Berlin authorities were forced to mount an hours-long effort to search for the [man]."
The volunteer was working on behalf of non-profit aid organisation Moabit Hilft, which initially confirmed the story and shared a tribute on Twitter. Today it told its supporters it was "stunned" after discovering it had been fabricated, adding: "We had experienced him as a reliable person full of integrity."
Volunteers for Moabit Hilft have been critical of LAGeSo's handling of the refugee crisis before, saying queues of refugees, including toddlers, line up outside LAGeSo in Berlin every day waiting to get an appointment with officials. LAGeSo is responsible for helping refugees process asylum requests and handing out benefits to buy food and clothes.