Ghana President John Mahama has appealed to voters to elect him for a second term as he faces a tough challenge from opposition leader Nana Akufo-Addo in the 7 December presidential polls. There are seven presidential candidates that voters will choose from and will elect 275 members of parliament.
Addressing a rally of thousands of supporters in the capital Accra on Monday (5 December), Mahama said that he has done his best in the past four years and deserved to retain his position to consolidate the economic and infrastructure gains the country has made under him. If Mahama wins, he would serve for a final four-year term.
"I humbly ask for your mandate on Wednesday... to complete the journey which we all started together," Reuters quoted Mahama as saying.
The elections are expected to be a close race between Mahama and Akufo-Addo, with over 15 million Ghanaians set to casting ballot on Wednesday.
Mahama of the National Democratic Party (NDC) is a former vice president and had won the presidential elections in 2012. He had previously served for six months as the leader of the country, following the death of his predecessor John Atta Mills.
The 58-year-old stressed that the West African nation had surpassed challenges and made gains by alleviating the economy from crisis, solving a prolonged energy crisis and improving infrastructure.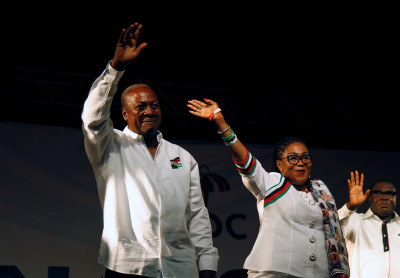 "We have done much work, but more needs to be done and we can only advance faster if we press on and stay the course," Mahama said and emphasised on peace and stability that Ghanaians have enjoyed in all of Africa.
He noted that there has been peace in the country under his government. He stressed that the destiny of the country lies in the hands of the people and hoped that elections would be conducted peacefully.
Meanwhile, Akufo-Addo of the New Patriotic Party warned voters against reelecting Mahama and accused the NDC of mismanagement and corruption.