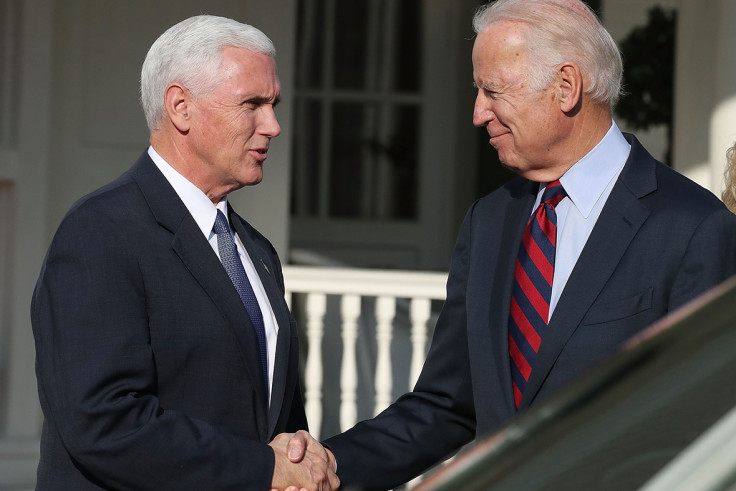 Vice President Joe Biden hinted on Monday (5 December) that he would run for president in 2020. The vice president considered running during the 2016 elections but ultimately decided against it following the death of his son Beau Biden.
"I am going to run in 2020," Biden told a group of reporters when asked about his political future. When asked what he would run for, he replied: "For president. And also, what the hell man, anyway."
Biden was asked again if he was just kidding about running for president in 2020, The Hill reported. After pausing for 4 seconds, the 74-year-old said he was not committing to anything. "I'm not committing not to run. I'm not committed to anything. I learned a long time ago, fate has a strange way of intervening," the vice president said.
The Hill noted that if Biden were to run in four years and managed to win the Democratic nomination, he would be the oldest person to win a major party presidential nomination. He would be 78 years old on Election Day in 2020, The Guardian reported.
The vice president considered mounting a presidential bid during this election cycle but announced in October 2015 that he would not run, saying he had run out of time "necessary to mount a winning campaign" while he mourned the loss of his son to cancer.
"As my family and I have worked through the grieving process," he said at the time. "I've said all along that it may very well be that that process, by the time we get through it, closes the window on mounting a realistic campaign for president. I've concluded it has closed." The vice president instead spent the last year campaigning for Democratic nominee Hillary Clinton.
Biden, who enjoys immense popularity as President Obama's second-in-command, became a US senator for Delaware in 1973. He won reelection six times. Biden has launched two presidential bids, one in 1988 and another in 2008. He dropped out early both times, The Guardian noted. Biden also dismissed rumours of being secretary of state under a Clinton administration or chairing the Democratic National Committee.