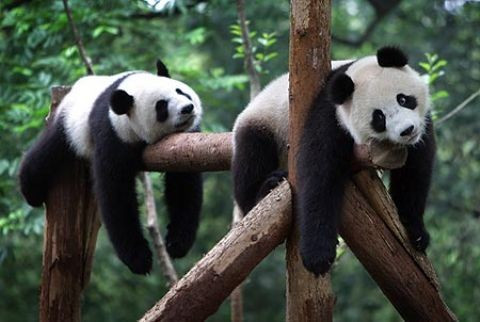 A giant panda has given birth to twins in China's Sichuan Province, the first pair of the endangered species to be born in the world this year, Xinhua news agency reported.
Panda Haizi gave birth to two cubs 10 minutes apart on Saturday 22 June, said staff at the China Conservation and Research Centre for the Giant Panda in Sichuan province.
Both cubs were female, with the first weighing 79.2g (2.79oz), and the second 79.2 grams, the staff said
Haizi had yet to release the other cub from her embrace, but staff said its large size and the volume of the sounds it has been making mean it is likely to be a healthy cub.
Haizi became pregnant after mating with Bai Yang and Yi Bao in March. She began to exhibit prenatal behaviour in late May.
Giant pandas commonly struggle to breed in captivity, with females fertile for only two or three days a year.
There are about 1,600 in the wild, where they are critically endangered due to poaching and development. More than 300 live in captivity, mostly in China's breeding programmes.
See the new arrivals in the short YouTube video below.
Video from YouTube/Knoebro