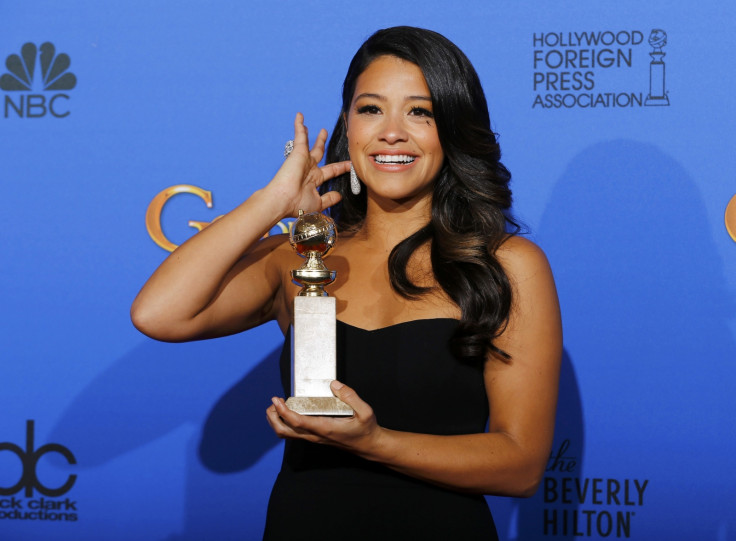 Gina Rodriguez is over the moon after winning the Golden Globe for Best Actress in a Comedy or Musical.
Rodriguez looked stunning in a strapless black Badgley Mischka gown paired with Jimmy Choo shoes.
Rodriguez plays the character of Jane Villanueva, a religious Latina girl, who vows to remain a virgin until her marriage to a detective. However, all her dreams come crashing down when doctors wrongfully artificially inseminate her during a routine checkup.
The CW hit series has completed just one season but has become a favourite with fans and critics alike for its unique concept and the Puerto Rican star's natural and flawless performance.
"This award is so much more than myself," Rodriguez gushed after receiving the award. "It represents a culture that wants to see themselves as heroes," she added.
The Bold and the Beautiful alum ended her emotional speech after thanking her parents and said, "Thank you to my mom and dad for telling me to dream and to never stop dreaming."
Watch the complete Golden Globe 2015 winner's list here.
An elated Rodriguez spoke to E! News and said that the award motivates her to work harder.
"It motivates me to work harder. I'm empowered. I mean, when you get a title like that it's like, 'OK, back to the work.' You have to work very hard to prove you are deserving of that. So I go back to work tomorrow and I will continue to try and prove that I am worthy of that."
She also reveals how her boyfriend has reacted to the virginity questions that keep popping before her since the premiere of the CW series.
"Talk to my boyfriend, he's really upset about it," she told E! News. "Just kidding, it's inappropriate. It's all inappropriate!"
Meanwhile, fans of the CW show can rejoice at the news that Jane the Virgin has been renewed for a second season.