Golden Globe Awards Live Blog 2015: As it happened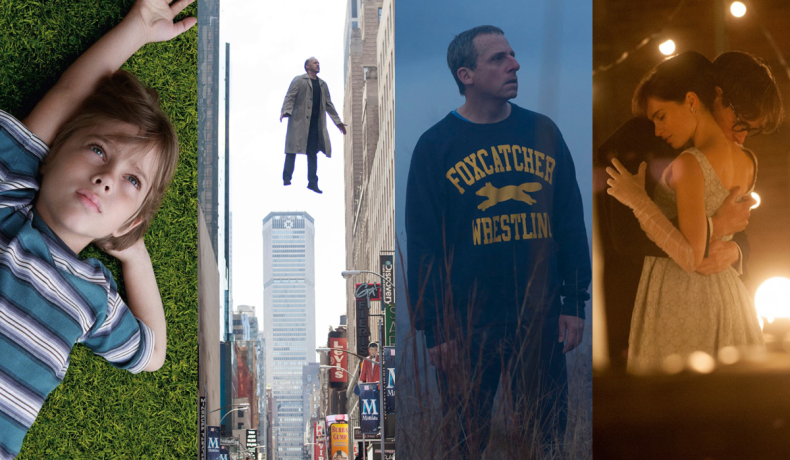 Tonight's Golden Globe awards mark the beginning of Hollywood's annual month-long shindig/knees up, as little golden gongs are handed out to some of the best and brightest of the last year.
The 72<sup>nd Annual Golden Globes will be highlighted by its 14 film categories but will also celebrate the best television of the last 12 months. Will Boyhood sweep the biggest prizes? Will Steve Carell win an unlikely but deserved Best Actor prize? Where will the biggest surprise be?
IBTimes UK will be live blogging the event hosted by Tina Fey and Amy Poehler from 12:30am tonight.
04:03: Boyhood wins, I believe the young star Ellar Coltrane is in tears. A great moment to end the show. GOOD NIGHT EVERYBODY!
04:02: Guess who won, go on guess.... it begins with B.
04:00: One prize remains (after this ad break), The Boyhood Award for Most Boyhood Boyhood Movie About Boyhood, aka Best Picture 2015.
03:58: Playing disabled well guarantees awards, playing a famous disabled person is basically cheating. Hard to discredit Redmayne's performance though, even if history is on his side already.
03:55: Now it's Gwyneth Paltrow's turn to hand out the Best Actor (drama) prize, which goes to our ow Eddie Redmayne for his portrayal of Professor Stephen Hawking in The Theory of Everything. Physical acting often garners a lot of praise over more nuanced acting of the more ordinary time, but Redmayne does incredibly with a tough job.
03:53: With the show running late, Matthew McConnaughey rushes on to announce that Julianne Moore has won the Best actress prize for Still Alice. The firm favourite and a long-time favourite in Hollywood.
03:45: Robert Downey Jr presents the award for Best Film (comedy or musical) to The Grand Budapest Hotel, a favourite alongside Birdman, and my own prediction given its wider appeal. That sound is the film's Oscar hopes sharply rising.
03:40:
03:38: "Two things I promised myself not to do: cry and give air quotes, damn". Michael Keaton's speech gets emotional when he mentions his son Sean.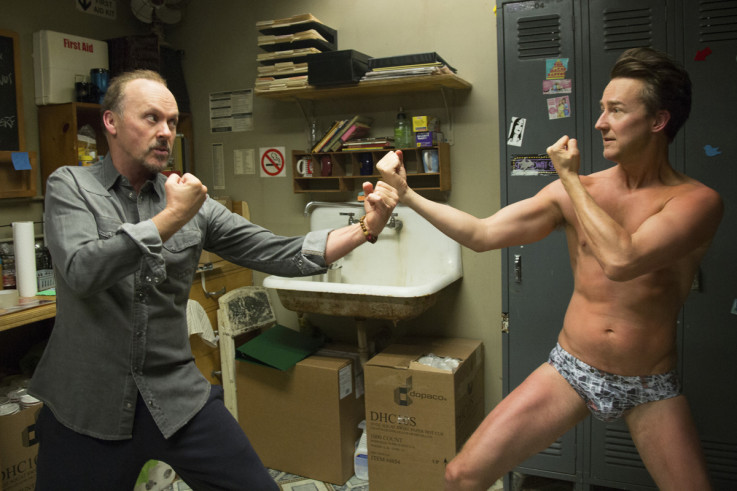 Michael Keaton and Edward Norton clash in Birdman.
Fox Searchlight
03:34: Michael Keaton gets it for Birdman, and thoroughly deserved it is as well. A Hollywood great resurgent who thanks the Hollywood Foreign Press for "even having a comedy category," a knock at the Osccars, who are renowned for not celebrating comedy, but who may be forced to change tact in the face of Birdman and Grand Budapest Hotel.
03:33: Amy Adams here to present the award for Best Actor in a comedy or musical. Michael Keaton and Ralph Fiennes the favourites.
03:28: Ruth Wilson wins Best Actress for her work on Best TV drama winner The Affair.
03:27: My biggest ongoing man crush Chris Pratt provides my first audible laugh of the evening, telling his wife Anna Faris: "Get your own helicopter home tonight."
03:24: Speaking of looking bored, here's Harrison Ford to award the Best Director prize to Richard Linklater for Boyhood. The win just solidifies that his film is the favourite to win Best Picture (drama) at the end of the night.
Assembling a cohesive movie filmed over a 12 year period is an incredible feat and there's no doubting Linklater deserves recognition for his remarkable achievement.
Ralph Fiennes in The Grand Budapest Hotel.
Fox Searchlight
03:23: Seven awards remain, and here's Owen Wilson to look bored while introducing the video package for The Grand Budapest Hotel.
03:17: Clooney pays tribute to Robin Williams, the extraordinary march in Paris on Sunday and his new wife Amal as part of an admittedly fantastic acceptance speech.
03:13: Even his Spy Kids cameo gets a few seconds, but no Batman and Robin? The Golden Globes continue to be a SHAM!
03:12: Clooney's South Park appearance gets into his career montage. Definite highlight.
03:08: George Clooney is getting his award for being handsome enough to keep working for 30 years or so. His Oceans Trilogy co-star Don Cheadle and his ER co-start Julianna Margulies present the award after some BANTER and a nice jab at Clooney's movie The Monument's Men, which was pants.
03:00: Katherine Heigl is here with David Duchovny and eventually spits out one of the very worst gag in awards show history. They're here to hand out the Best Actor in a drama series award to expected winner Kevin Spacey.
"This is just the beginning of my revenge," he jests (we hope).
02:57: Catherine Zeta Jones is here to introduce Pride, the British comedy we should all be very, very proud of. I might even get excited if it won.
02:55: Best TV series , drama goes to The Affair - a surprise win for a critically acclaimed show. Really thought House of Cards had it.
The Affair stars Brits Dominic West and Ruth Wilson, and tells the story of a cruel dystopian sci-fi future on Mars an affair.
02:49: Best Actress in a TV mini-series or movie goes to Maggie Gyllenhaal for BBC drama The Honorable Woman.
She talks about the wealth of roles in TV and film for "actual women," not just strong women. A great point very well made and a deserving winner.
02:45: Leviathan wins the Best Foreign Film prize for Russia.
02:37: The award for best actor in a comedy series goes to Jeffrey Tambor for Transparent.
02:34: Older people making jokes about being high will never get old.
Boyhood follows Mason (Ellar Coltrane) as he grows up over 12 years.
IFC Films
02:33: Jack Black on stage now to give Boyhood some love.
02:31: Birdman wins the Best Screenplay prize. It's first award of the evening.
02:29: Bill Hader and Kristen Wiig here to present the screenplay prize, but first they're getting a bunch of famous movie lines wrong for laughs.
02:27: Fey and Poehler driving the North Korea gag into the ground.
02:25: It's no secret award shows are just excuses for back-slapping and Hollywood congratulating each other, but I wish they would at least focus on the awards for doing something this year, rather than repeatedly reminding us that George Clooney is getting a Lifetime Achievement Award later.
Fey and Poehler already killed any meaning for that award with their wonderful joke earlier.
02:20: The Golden Globe for Best Supporting Actress goes to Patricia Arquette for Boyhood. YEAH!
02:16: Best Animated Film goes to How To Train Your Dragon 2 over hot favourites The Lego Movie and Big Hero 6. Still a thoroughly deserving winner though!
02:05: Ricky Gervais is here to wind back the clock to his successful hosting tenure, drink in hand, to present the prize for Best Actress in a comedy or musical motion picture. It goes to....
Amy Adams for Big Eyes!
02:02: Matt Bomer wins Best Supporting Actor for The Normal Heart.
02:00: You know that face when you've been forcing a smile for hours and it's all just too much....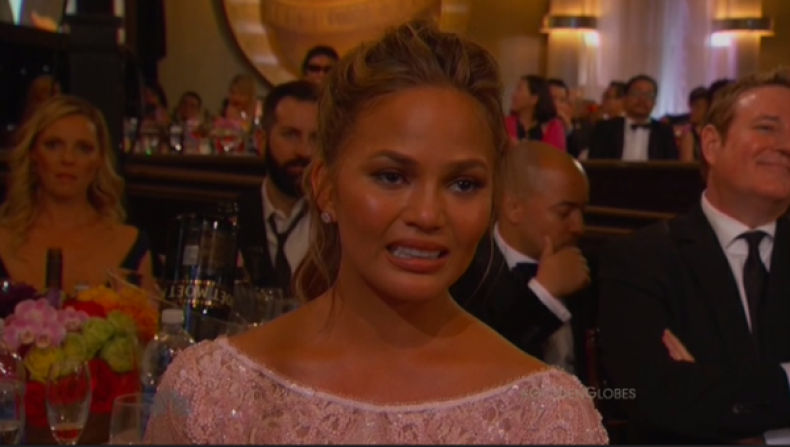 01:55: "Selma is now," says Common in a great speech about the film and its links to the current issues in America regarding its police forces and the black community.
01:54: PRINCE!
01:52: Prince (PRINCE!) is here to present the prize for best original song in a motion picture. Everything is Awesome from The Lego Movie should have won, but Glory (by John Legend and Common) from Selma gets it (PRINCE!).
01:50: Best Original Score goes to Johann Johannsson for The Theory of Everything. A shame considered the more unique soundtracks of Gone Girl, Birdman and Interstellar.
01:47: It was pretty perfect...
01:41: Best comedy or musical TV series goes to Transparent. A very popular winner with the audience.
01:38: Gina Rodriguez wins Best Actress in a comedy for Jane The Virgin.
She elects to give Default Awards Season Speech #3
01:38: #TrueDetectiveSeasonTwo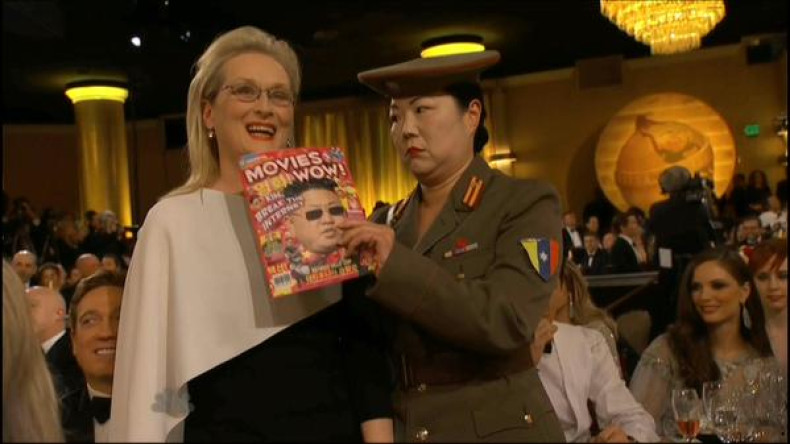 01:34: A North Korean sergeant in the audience, providing the biggest Sony Hack gag of the night.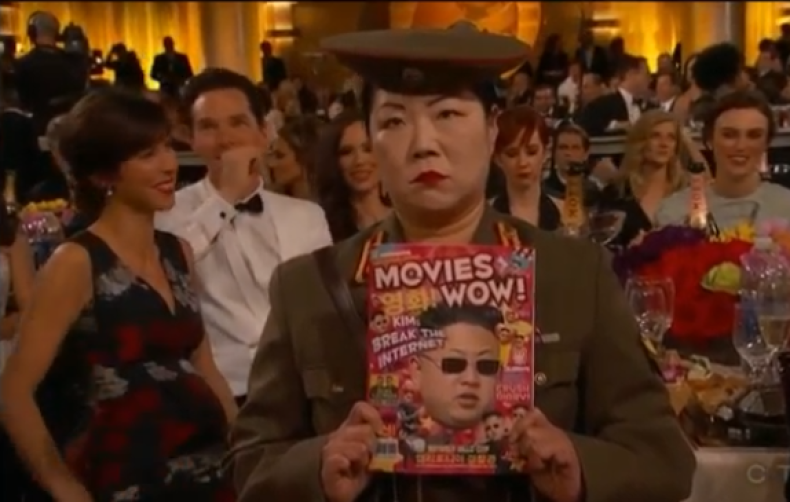 01:28: They're now running us through the big film contenders now, starting with the stunningly unique Birdman.
01:26: Billy Bob Thornton wins the Best Actor (in a mini series of TV film) for Fargo, another surprise at the expense of True Detective. Thornton tries not to say anything offensive in his speech, keeping it to a simple "thank you".
01:24: Fargo beats True Detective! A surprise but not an undeserved winner by any means, True Detective took the headlines but Fargo (the little film-adaptation that could) was every bit as critically-lauded.
01:23: J-Lo and Jeremy Renner on stage to present the prize for best mini-series or motion picture made for television. If it's not True Detective that'll be a huge surprise.
01:16: Joanne Froggatt wins the Best Supporting Actress in a TV Series prize for Downton Abbey.
She gives a wonderful little speech including a story about letters she had received from rape victims following her storyline in the British period series.
01:15: Simmons thanks his "above-average children" in a nice little speech. Well done sir.
01:13: Best Supporting Actor in a Motion Picture up first, and its JK Simmons who wins for his powerhouse performance in Whiplash, which is incredible, and which you'll be hearing a lot more about.
01:07: Fey and Poehler nailing it as usual
01:01: There's our first selfie-stick....
00:59: In half an hour of watching E!'s red carpet coverage my soul has only tried to escape my body three times - a marked improvement over last year's Oscars. Good job soul.
00:56:
00:54: In tandem with our disdain-searching party game, another fun time-waster is to search for signs of life or consciousness in the eyes of E!'s presenters.
00:50: Ten minutes to go. Our prediction for tonight's awards can be seen below. This is a rare awards season with no real front-runner or big favourite, the Best Film and Best Leading Actor categories are probably the most hotly contested.
We predict that Boyhood will take home the drama prize, Grand Budapest Hotel will just pip Birdman to the comedy or musical award and Steve Carell to win Best Actor for his transformative performance in Foxcatcher.
00:47: For the third year running this year's Golden Globes hosts are US comedians Tina Fey and Amy Poehler, who for those unfamiliar with them in the UK, are brilliant.
00:46: Yep, just about covers it...
00:44: Fun party game: search the faces of E!'s red carpet guests for a look of utter disdain.. Being professional actors most can hide it well, but occasionally a little glimmer of exasperation breaks through.
Oh and you can't claim that look on Benedict Cumberbatch's face counts, that's just his face.
00:37: "What can you tell me about your role in Star Wars?" asks an E! reporter in the direction of 2014 awards season favourite Lupita N'yongo. "Absolutely nothing," the 12 Years a Slave scene-stealer says in return. Disney has trained her well.
00:34: Red carpet culture continues to baffle me, can we not talk about how brilliant Whiplash is instead of gawking at people?
00:31: Gooooooooooood morning, awards season gets under way TONIGHT with the Golden Globes, and I'm not quite awake yet. Give me a second here...
---
Film Awards
---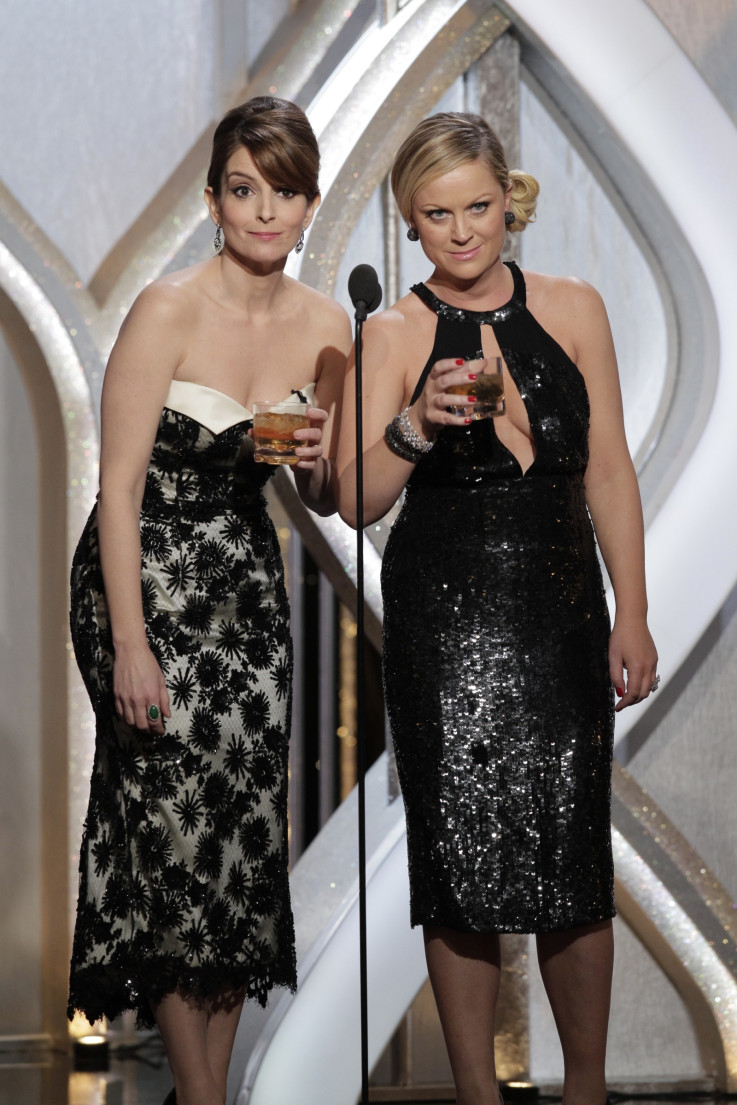 Presenters Tina Fey and Amy Poehler return for a third time
Getty
Best Motion Picture – Drama
Boyhood (IBT Predicted Winner)
Foxcatcher
The Imitation Game
Selma
The Theory of Everything
Best Motion Picture – Comedy or Musical
Birdman
The Grand Budapest Hotel (IBT Predicted Winner)
Into the Woods
Pride
St. Vincent
Best Director – Motion Picture
Wes Anderson - The Grand Budapest Hotel
Ava DuVernay - Selma
David Fincher - Gone Girl
Alejandro Gonzalez Inarritu - Birdman
Richard Linklater – Boyhood (IBT Predicted Winner)
Best Performance by an Actress in a Motion Picture – Drama
Jennifer Aniston - Cake
Felicity Jones - The Theory of Everything
Julianne Moore - Still Alice
Rosamund Pike - Gone Girl (IBT Predicted Winner)
Reese Witherspoon - Wild
Best Performance by an Actor in a Motion Picture – Drama
Steve Carell - Foxcatcher (IBT Predicted Winner)
Benedict Cumberbatch - The Imitation Game
Jake Gyllenhaal - Nightcrawler
David Oyelowo - Selma
Eddie Redmayne - The Theory of Everything
Best Performance by an Actress in a Motion Picture – Comedy or Musical
Amy Adams - Big Eyes
Emily Blunt - Into the Woods
Helen Mirren - The Hundred-Foot Journey
Julianne Moore - Maps to the Stars (IBT Predicted Winner)
Quvenzhane Wallis - Annie
Best Performance by an Actor in a Motion Picture – Comedy or Musical
Ralph Fiennes - The Grand Budapest Hotel
Michael Keaton - Birdman (IBT Predicted Winner)
Bill Murray - St. Vincent
Joaquin Phoenix - Inherent Vice
Christoph Waltz - Big Eyes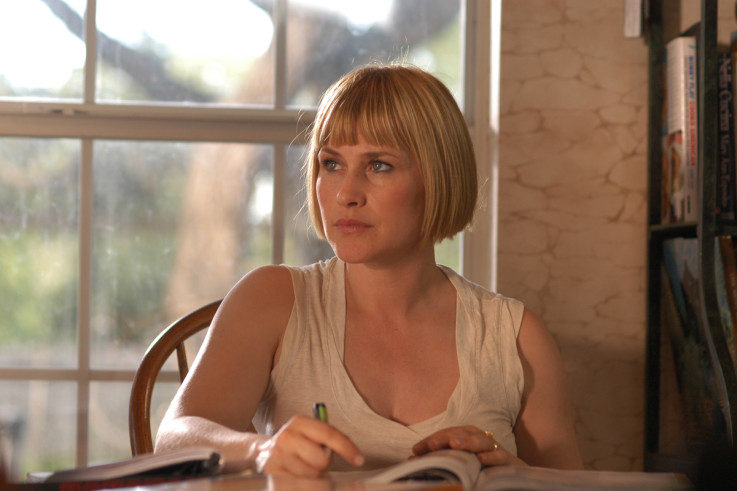 Patricia Arquette in Boyhood
IFC Films
Best Performance by an Actress in a Supporting Role in a Motion Picture
Patricia Arquette - Boyhood (IBT Predicted Winner)
Jessica Chastain - A Most Violent Year
Keira Knightley - The Imitation Game
Emma Stone - Birdman
Meryl Streep - Into the Woods
Best Performance by an Actor in a Supporting Role in a Motion Picture
Robert Duvall - The Judge
Ethan Hawke - Boyhood (IBT Predicted Winner)
Edward Norton - Birdman
Mark Ruffalo - Foxcatcher
JK Simmons – Whiplash
Best Animated Feature Film
Big Hero 6
The Book of Life
The Boxtrolls
How to Train Your Dragon 2
The Lego Movie (IBT Predicted Winner)
Best Foreign Language Film
Force Majeure Turist (Sweden)
Gett: The Trial of Viviane (Israel)
Ida (Poland/Denmark) (IBT Predicted Winner)
Leviathan (Russia)
Tangerines Mandariinid (Estonia)
Best Screenplay – Motion Picture
Wes Anderson - The Grand Budapest Hotel (IBT Predicted Winner)
Gillian Flynn - Gone Girl
Alejandro Gonzalez Inarritu, Nicolas Giacobone, Alexander Dinelaris, Armando Bo - Birdman
Richard Linklater - Boyhood
Graham Moore - The Imitation Game
Best Original Score – Motion Picture
Alexandre Desplat - The Imitation Game
Johann Johannsson - The Theory of Everything
Trent Reznor, Atticus Ross - Gone Girl
Antonio Sanchez - Birdman
Hans Zimmer – Interstellar (IBT Predicted Winner)
Best Original Song – Motion Picture
Big Eyes – Big Eyes - Music by: Lana Del Rey, Lyrics by: Lana Del Rey
Glory – Selma - Music by: John Legend, Common, Lyrics by: John Legend, Common (IBT Predicted Winner)
Mercy Is – Noah - Music by: Patti Smith, Lenny Kaye, Lyrics by: Patti Smith, Lenny Kaye
Opportunity – Annie - Music by: Greg Kurstin, Sia Furler, Will Gluck, Lyrics by: Greg Kurstin, Sia Furler, Will Gluck
Yellow Flicker Beat – The Hunger Games: Mockingjay – Part 1 - Music by: Lorde, Lyrics by: Lorde
---
Television Awards
---
Best Television Series – Drama
The Affair
Downton Abbey
Game of Thrones
The Good Wife
House of Cards (IBT Predicted Winner)
Best Performance by an Actress in a Television Series
Claire Danes - Homeland (IBT Predicted Winner)
Viola Davis - How to Get Away With Murder
Julianna Margulies - The Good Wife
Ruth Wilson - The Affair
Robin Wright - House of Cards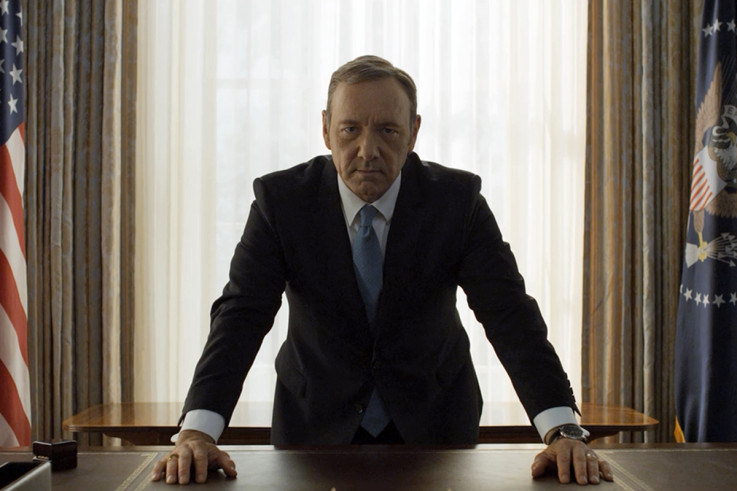 Kevin Spacey in House of Cards
Netflix
Best Performance by an Actor in a Television Series – Drama
Clive Owen - The Knick
Liev Schreiber - Ray Donovan
Kevin Spacey - House of Cards (IBT Predicted Winner)
James Spader - The Blacklist
Dominic West - The Affair
Best Television Series – Comedy or Musical
Girls
Jane the Virgin
Orange Is the New Black (IBT Predicted Winner)
Silicon Valley
Transparent
Best Performance by an Actress in a Television Series – Comedy or Musical
Lena Dunham - Girls
Edie Falco - Nurse Jackie
Julia Louis-Dreyfus - Veep
Gina Rodriguez - Jane the Virgin (IBT Predicted Winner)
Taylor Schilling - Orange Is the New Black
Best Performance by an Actor in a Television Series – Comedy or Musical
Louis CK - Louie
Don Cheadle - House of Lies
Ricky Gervais - Derek
William H. Macy - Shameless
Jeffrey Tambor – Transparent (IBT Predicted Winner)
Best Miniseries or Motion Picture Made for Television
Fargo
The Missing Stars
The Normal Heart
Olive Kitteridge
True Detective (IBT Predicted Winner)
Best Performance by an Actress in a Miniseries or Motion Picture Made for Television
Maggie Gyllenhaal - The Honorable Woman (IBT Predicted Winner)
Jessica Lange - American Horror Story: Freak Show
Frances McDormand - Olive Kitteridge
Frances O'Connor - The Missing
Allison Tolman – Fargo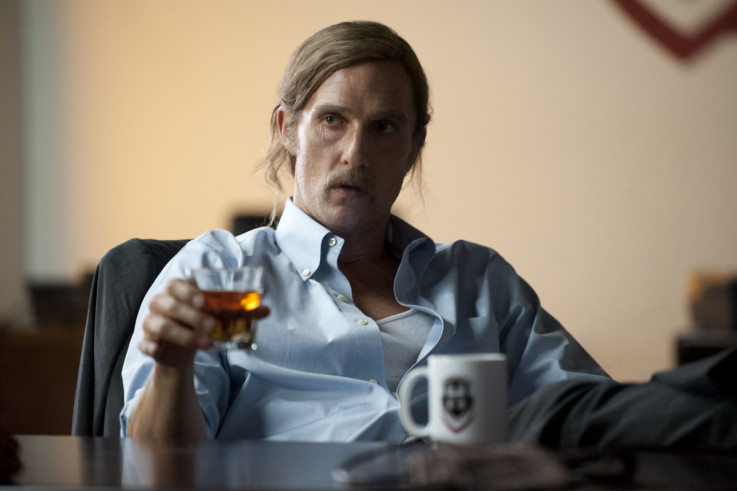 Matthew McConaughey in True Detective
HBO
Best Performance by an Actor in a Miniseries or Motion Picture Made for Television
Martin Freeman - Fargo
Woody Harrelson - True Detective
Matthew McConaughey - True Detective (IBT Predicted Winner)
Mark Ruffalo - The Normal Heart
Billy Bob Thornton – Fargo
Best Performance by an Actress in a Supporting Role in a Series, Miniseries or Motion Picture Made for Television
Uzo Aduba - Orange Is the New Black
Kathy Bates - American Horror Story: Freak Show (IBT Predicted Winner)
Joanne Froggatt - Downton Abbey
Allison Janney - Mom
Michelle Monaghan - True Detective
Best Performance by an Actor in a Supporting Role in a Series, Miniseries or Motion Picture Made for Television
Matt Bomer - The Normal Heart
Alan Cumming - The Good Wife
Colin Hanks - Fargo
Bill Murray - Olive Kitteridge
Jon Voight - Ray Donovan (IBT Predicted Winner)