Republican Donald Trump has whittled down his Vice Presidential (VP) running mate shortlist to just three candidates, announcing he needs 'an attack dog' on the ticket with him.
Former house speaker Newt Gingrich, New Jersey governor and former presidential hopeful Chris Christie, and Indiana governor Mike Pence are all under consideration, with rumoured pick Iowa senator Joni Ernst dropping off the shortlist.
Trump told the Wall Street Journal he wanted "an attack dog" who could defend him against slurs, and a "fighter skilled in hand-to-hand combat," adding: "I'm getting attacked from all sides."
Presidential candidates tend to pick running mates who are able to make up for their weaknesses. In Trump's case someone with closer ties to the party or specific interest groups would be ideal.
But which candidate will make the best running mate for Trump? IBTimes UK looks at the likeliest pick and what strengths the GOP candidate is likely to prize as he goes head to head with Democrat Hillary Clinton in the November presidential election.
Newt Gingrich
Tipped to be the favourite for the VP nod, Gingrich is a party stalwart who served as house speaker from 1994-1999, fiercely opposing many of then-president Bill Clinton's policies and earning a reputation as a 'take no prisoners' politician.
Prior to his time as speaker, Gingrich had been elected to Congress 10 times, served as minority whip, and formed the Conservative Opportunity Society. No doubt Trump is hoping a Gingrich ticket would recall a firm hand against Clinton ideals – albeit with a different Clinton.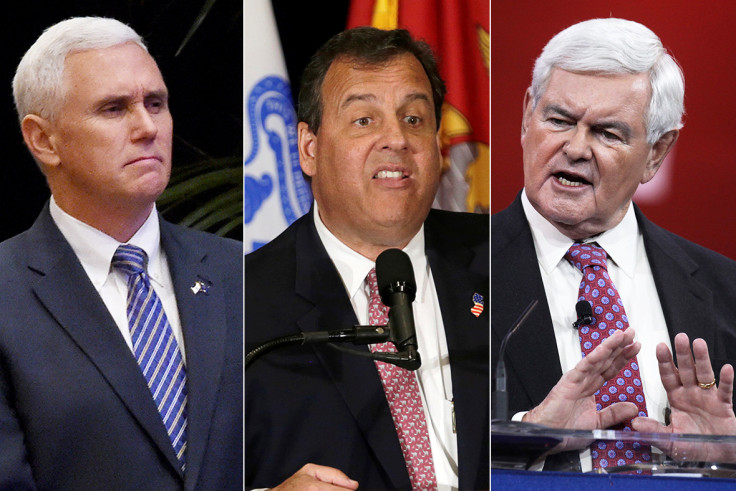 The VP ticket was not the initial prize Gingrich was hoping for – having run for the top office himself in 2012, but losing out to Mitt Romney, who lost that race to Democrat incumbent president Barack Obama.
Very much a member of the conservative establishment, Gingrich, who has recently worked as a political consultant and contributor to Fox News, could rally support for Trump from the party's old guard, but he has almost as many detractors as supporters and his critics have accused him of being difficult and politically aggressive.
However, this could fulfil just the 'attack dog' criteria Trump is looking for – something both Gingrich and Christie seem to display.
Chris Christie
Once a rival of Trump, who criticised Christie for leaving his state to run for president, Christie endorsed the GOP candidate just two weeks after dropping out of the candidate race – earning himself brownie points with Trump's campaign team.
However, his endorsement did not win him points with voters. Instead his popularity rating slid after buddying up to Trump and several newspapers in his home state called for him to resign.
Before entering the Republican presidential race, Christie had been New Jersey governor since 2012 – with varying degrees of popularity. Initially doing very well with voters and seen as a straight-talking politician, Christie's reputation was marred over accusations by Democratic legislators that he had deliberately closed several lanes of a bridge's toll plaza in order to cause traffic chaos in order to punish a town's mayor for not endorsing him.
Prior to his time as governor, Christie served as US attorney to New Jersey, and has previously campaigned for both George Bush senior and junior. He is currently rumoured to be lagging behind the other two candidates, with sources quoted by CNN revealing he is the least favoured of Trump's three people on the shortlist.
Mike Pence
Well known as a social conservative who campaigns on 'traditional moral values', the Indiana governor introduced Trump at a rally this week.
If chosen, he is expected to help Trump appeal to the right-wing, Christian base that Trump has struggled to enchant. Elected to the House of Representatives in 2000, Pence represented the sixth congressional district in Indiana until 2013, also chairing the House Republican Conference from 2009-11.
A qualified attorney, who spent some time in private practice prior to entering politics, Pence has been tipped as 'one to watch' for several years now, with rumours of a presidential run in previous elections. However, his views on gay conversion therapy (of which he is in favour), strong anti-immigration rhetoric and overtly religious values may not chime as well with the more moderate Republican voters likely to back Trump.
Despite having less of an 'attack dog' persona and less charisma than his fellow VP nominees, Pence could be seen as the steady hand to Trump's more volatile persona – complimenting him in a way the other two candidates do not manage. Whether this would make Pence a real contender against Gingrich is yet to be seen, but it is possible he has an edge on Christie.
Trump is expected to announce his VP pick on Friday, 15 July.