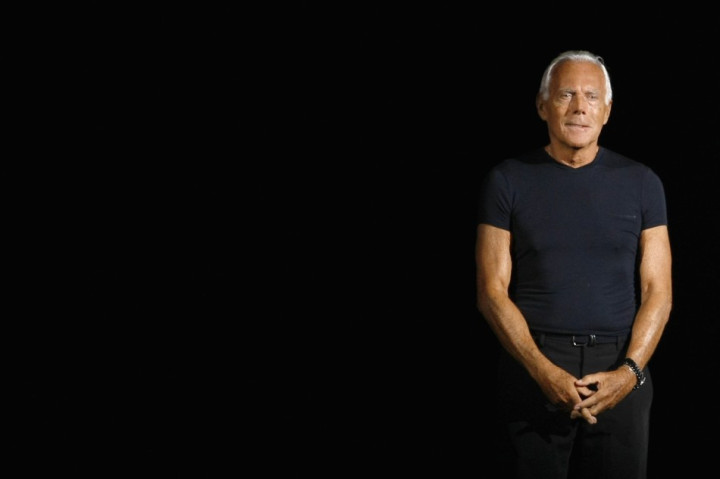 He is a millionaire businessmen, football fanatic and style icon and today Italian designer Giorgio Armani celebrates another impressive milestone ‒ he has turned 80.
Born in the northern Italian town of Piacenza, he dreamed of becoming a doctor and "saving lives" before he received a more glamorous calling and became a household name.
And he has never looked back.
Over the course of his illustrious career, he has built a fashion empire, dressed some of the biggest stars on the globe, collaborated with the Pope and even featured on a number of rap songs.
And his watches, underwear and accessories are worn by everybody, from celebrities to average joes.
IBTimes UK recaps some of the best musings on life, fashion and business to come from the fashion legend:
On his work
"Elegance is not about being noticed, it's about being remembered."
On designing clothes for today's woman
"Women no longer need a masculine uniform. Women have changed."
On how he became a style icon
"I have chosen to make my work my life."
On his love hate relationship with the media
"The press like to be shocked; they like to find something which gives them a shock every season. They like revolution, big explosions, not evolution."
On studying medicine before venturing into fashion
"I wanted to be a country doctor and save lives... like a hero in a Hollywood film."
On being a perfectionist
"Even sometimes when my mother would set up a table, I didn't like the way she did it."
On his late partner Sergio Galeotti
"He had a great deal of strength, and maybe even some form or irresponsibility. And I operated with a dose of realism, and maybe even a little genius that has been very useful to me in my life."
On the importance of self-esteem
The new power suit is the confidence you have in yourself. The clothes just accentuate that.