The leader of Glasgow Central Mosque has been forced to defend himself after praising a Pakistan terrorist executed in February (2016) for murdering his boss, a politician who opposed the country's strict blasphemy laws. Imam Maulana Habib Ur Rehman used WhatsApp to express his sadness at the execution of Mumtaz Qadri, a bodyguard who shot his employer Salman Taseer in 2011.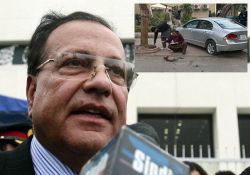 On WhatsApp Rehman said he was "disturbed" and "upset" by Qadri's execution, writing: "I cannot hide my pain today. A true Muslim was punished for doing which [sic] the collective will of the nation failed to carry out." He also wrote of Qadri "rahmatullahi alai", an Islamic blessing.
The governor of Punjab, Salman Taseer had been a vocal advocate of reform for Pakistan's strict blasphemy laws, saying they were being used to persecute minorities. Under the draconian laws anyone who insults Islam can potentially be executed. Qadri shot Taseer nine times on 4 January 2011. After Qadri's execution on 29 February 100,000 people attended his funeral in Rawalpindi.
Imam Rehman said he had been quoted out of context and was only expressing his opposition to capital punishment. "The assassination of Salman Taseer is widely condemned," he told the BBC. "Whether I agree or disagree with the views he expressed, as an Imam and as a human being I express abhorrence at the manner in which he was executed. The execution was not in accordance with Islamic teachings and principles."
However the Imam's views have caused disquiet among some within the mosque and wider Muslim community in Glasgow. Lawyer Aamer Anwar said: "To describe a convicted terrorist as a true Muslim is grotesque. Let's be clear: Mumtaz Qadri was a terrorist. He was no national hero and he was no martyr. These views expressed are grotesque and whether done privately or publicly they should be condemned unequivocally. There's real concern within the community that if this is an imam expressing such views, then what is he expressing to our children?"