The police helicopter that crashed into a Glasgow pub killing nine people did not suffer catastrophic mechanical failure, investigators have found.
A preliminary probe by the Air Accidents Investigation Branch (AAIB) ruled out a fuel or engine problem as the cause of the accident.
A major question mark still hangs over why the helicopter dropped out of the sky over central Glasgow on 30 November and smashed through the roof of the pub.
A witness told investigators that there was a noise like a "misfiring car" moments before the crash.
The AAIB report said that the main and tail rotor blades were not spinning at the moment of impact. According to the report, one of the Eurocopter's two engines was destroyed in the crash but the other engine could have provided enough power to keep the rotor blades turning.
The fuel tank still held 95 litres of petrol, ruling out lack of fuel as the cause.
All three of the crew were killed in the crash along with six people in the pub.
An AAIB spokesman said: "Initial assessment provided no evidence of major mechanical disruption to either engine and indicated that the main rotor gearbox was capable of providing drive."
Pilot David Traill, 51, was described in the report as highly experienced, with more than 5,500 hours of flight time. His two officers on board were Kirsty Neils, 36, and Tony Collins, 43.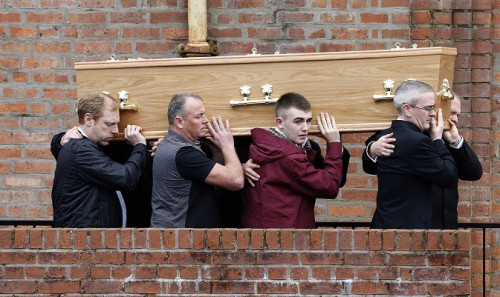 Funerals have taken place for Mark O'Prey, 44, and Gary Arthur, 48, who were in the pub at the time.
A full report into the tragedy may not be published for up to a year.