Glastonbury co-organiser Emily Eavis received death threats after booking US rapper Kanye West to headline the rock festival this year, she told The Times.
Emily, who organises the festival with her father, Michael Eavis, said the reaction to the booking was "crazy" and "horrible".
"It was not a pleasant world we unwrapped," she told the paper. "I had death threats and stuff. It was just horrible. It was just crazy. It was getting out of control. We had Time magazine, all the American news channels saying they were going to come down. This incredible onslaught worldwide.
"It was quite upsetting because we were talking about something that was so exciting and interesting and fresh and brilliant for the festival. Kanye West is making the most exciting music at the moment. He is an amazing force as a performer. For us, getting the biggest star in the world was an amazing coup."
'Musical injustice'
West's appearance was confirmed in March by Eavis, who tweeted: "We are thrilled to let you know we have the one and only Kanye West headlining Saturday night on the Pyramid stage."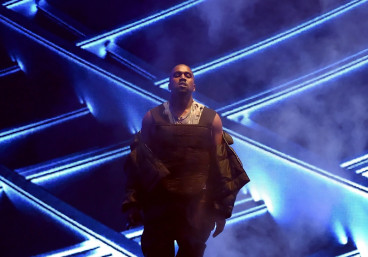 Hours after the announcement, angry festival goers had already launched a petition calling for Kanye to be replaced by a rock band. It has now been signed by over 133,000 people.
Started by disgruntled fan Neil Lonsdale, the petition states: "Kanye West is an insult to music fans all over the world. We spend hundreds of pounds to attend glasto, and by doing so, expect a certain level of entertainment. Kanye has been very outspoken on his views on music....he should listen to his own advice and pass his headline slot on to someone deserving! Lets prevent this musical injustice now!"
The reaction to West's performance resembles the criticism that followed the announcement that rapper Jay Z would headline the festival in 2008.
West will be joining fellow headliners The Who and Foo Fighters at Glastonbury, which will be returning to Worthy Farm, Somerset from June 24-28.