It's been a testing 2017 for police officers in the UK: The tragic death of PC Keith Palmer during the Westminster terror attack was just the beginning of a torrid few months that also included the London Bridge attack and, more recently, the Grenfell Tower fire.
So, a shift at the Glastonbury Festival was always going to provide some much-needed light relief for members of the British Transport Police in Avon and Somerset.
Video footage certainly seems to suggest that the boys in blue were getting into the spirit of things on Thursday (22 June) as revellers filed into Worthy Farm, Pilton, to pitch their tents ahead of Radiohead's Friday night headline slot.
Three of the officers went so far as to offer up a solid performance of Tom Jones's 'Delilah', accompanied by two festival-goers armed with a double bass, guitar and mouth organ.
The clip was uploaded to Twitter Friday and attracted high praise from fellow police forces and members of the public alike.
However, the British Transport Police in Liverpool couldn't help but take a good-natured dig at their colleagues, tweeting: "We can't sing either".
The recent spate of UK terror attacks has meant that security at Michael Eavis's farm is at an all-time high. Queues stretched back for hundreds of yards from the perimeter fence as personnel carried out thorough bag searches.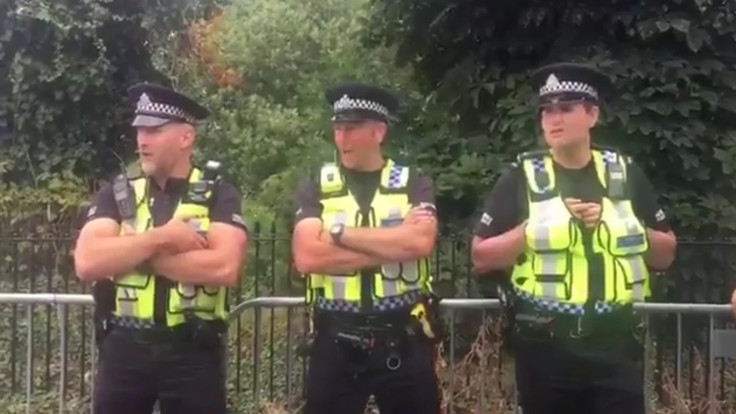 Meanwhile, the iconic festival's longstanding association with the global peace movement was honoured when 15,000 attendees formed an enormous peace symbol by the stone circle – setting a world record.
The political tone of the weekend looks set to continue as Labour leader Jeremy Corbyn is expected to take to the stage on Saturday afternoon (24 June).
The crowds have reportedly been shouting the left-winger's unofficial anthem, "Ooh Jeremy Corbyn", to the tune of The White Stripes' 'Seven Nation Army.