Some 45 animal charities, including the World Wildlife Fund (WWF), RSPCA and World Animal Protection, have signed a statement calling for governments in South East Asia to crack down on tiger farms in their countries that continue to operate illegally in the commercial trade of tiger parts. As part of Global Tiger Day, WWF also released a new survey suggesting that 76% of people do not know about the existence of such establishments.
When told about tiger farms, 86% wanted to see them immediately closed. The NGOs' statement said they wanted to raise "the alarm of increasing tiger poaching and call for ending all tiger farming and tiger trade".
WWF UK describe tiger farms as "captive facilities that breed tigers with an intent of engaging in the commercial trade in tiger products and parts". Though not all tiger attractions are farms, many operate as both.
Earlier in the week, a new report from World Animal Protection highlighted the neglect and abuse that many tigers in Thailand's tourist industry face. WAP found tigers being kept in "severely inadequate conditions" as well as cubs being taken from their mothers and badly manhandled for tourist selfies.
The statement is calling on the governments of China, Laos, Thailand and Vietnam to urgently investigate and phase out all tiger farms.
"We have seen the number of tiger farms increase at an astounding rate across Asia over recent years," said Heather Sohl, chief adviser on wildlife for WWF UK, "these undermine efforts to halt the illegal trade and protect wild tigers by complicating enforcement efforts and boosting the demand for products and parts. It is vital tiger farms are closed. Thailand's official closure of the Tiger Temple and investigation into other facilities is a good start, but they need to do more. We are also calling for China, Vietnam and Laos to act immediately."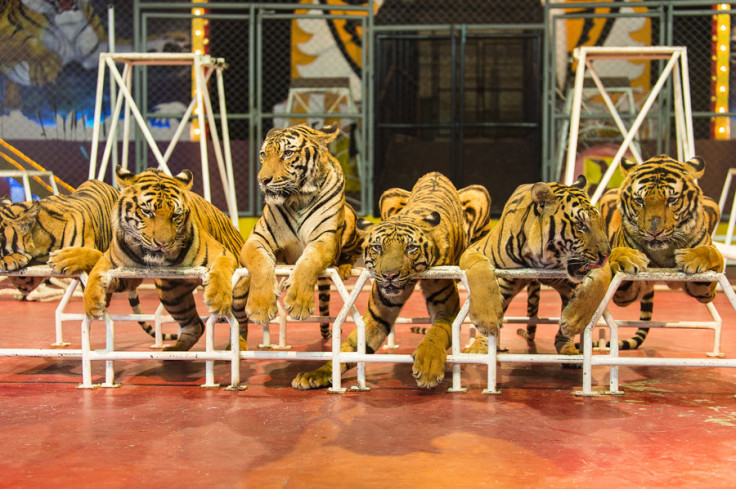 Thailand's Tiger Temple garnered international attention for the treatment of tigers in South East Asia when police removed the animals from the facility amid concerns of animal abuse an uncovered the bodies of 40 tiger cubs that had been kept in a freezer.
"Trade in tiger parts and products is still a major threat to tigers," continued Sohl, "there is still a long way to go in order to secure a stable future for this species and progress made so far hangs on a knife edge."