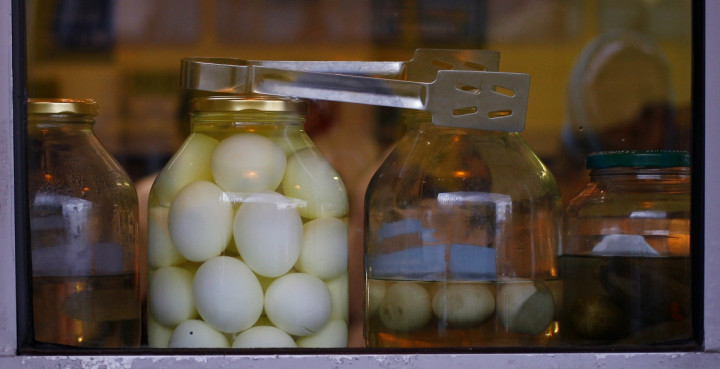 Former Royal Marine Gary Sims suffered a heart attack and choked to death during a pickled egg eating contest in a local pub.
Staff and customers at the Boars Head Inn in Berkeley, Gloucestershire, tried to revive Sims, 55, but he suffered a fatal heart attack.
Samantha Hall, the owner of the pub, told the Times: "It's the most shocking thing ever to happen here. He was the most amazing lovely man. My staff were amazing. I am so proud of them."
The father of two, also known as Joe, was spending the evening at the Boars Head Inn with friends when he took part in the contest and stuffed three pickled eggs in his mouth.
Staff carried out the Heimlich manoeuvre but were unable to resuscitate him when he had a heart attack.
"It was very busy so staff didn't think anything of it when someone came over and ordered six or so pickled eggs," Samantha Hall told the Telegraph.
"Everyone around here likes pickled eggs that's why we sell them - to us it's just like selling a packet of crisps.
"He wasn't even drunk. It was just an awful accident. I think the next thing anyone knew he had collapsed. It all happened so quickly.
"I think Joe stuffed three in his mouth and that is when it happened.
"The thing was he didn't even struggle or anything, he just collapsed and that was it and his eyes rolled back.
"The ambulance was called and my doorman was trying to perform the Heimlich manoeuvre but it didn't work. Then they were doing CPR.
"The paramedics got him in an ambulance and I was following them to the hospital, he was then pronounced dead on the way."
The 55-year-old ex-soldier worked as a contractor on the decommissioned Berkeley power station.
A spokesman for Gloucestershire Police confirmed they were called to the pub following the death of the man at 11.15pm.
Gloucestershire Coroner's office opened a hearing into Mr Sims's death on Friday, and said the initial cause of death discovered from a post mortem examination was asphyxia.
Police said they were not treating the death as suspicious.
An obituary was posted in the Gloucestershire local paper: "Gary Sims Formerly of Berkeley, loving Dad to Emma and Joanne, passed away suddenly on 7th June 2014 aged 55."