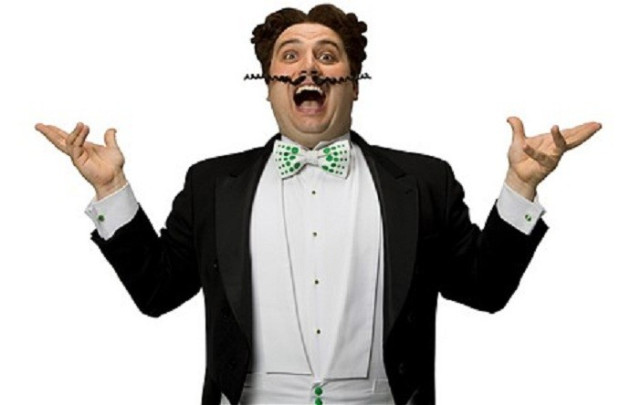 A long-dead songwriter has earned one final cash windfall thanks to the infuriatingly memorable TV advert for Go Compare.
The comparison website grabbed the nation's attention with a big Welsh opera star repeatedly singing its name, to a melody created in 1917 by one George Cohan.
The advert is famous for the irritation it engenders - perhaps why Go Compare ran a series of adverts in which the singer was blown up or sucked into black holes while singing the ditty.
But now the tune which inspired the campaign has topped a list of the highest-earning songs used in UK adverts.
Originally named Over There, Go Compare was penned by Cohan in 1917 to mark America's entry in to World War I. See the original below.
Since he died in 1942, it is unknown what Cohan would have thought of his slice of patriotic propaganda being used to flog a comparison website - and being voted most annoying advert by the marketing industry.
But the fact Over There has enjoyed such a lucrative second wind will no doubt have delighted his Estate, even though they lost copyright on the tune earlier this year.
Behind Over There in the most played list was YMCA, which is used by another comparison site, confused.com.
Last year almost £10m was raked in from adverts by the Performing Rights Society, which then distributed the money to those who created the tunes. According to PRS spokesperson Dan Neale, getting a song on television can be a very good career move.
"Music's role in TV adverts has always been significant, and under-rated, but it's never been more beneficial for songwriters to land that deal" Neale said.
"The exposure and reach they can gain by getting a song in a commercial is a huge benefit to the artist, as it allows them to cut through the many thousands of acts that the modern audience has access to.
"The licence fee and royalties that are generated by the campaign can change a songwriter's career."
The full 10 top list is as follows.
1) Over There, used by Go Compare
2) YMCA, used by Confused.com
3) Eliza's Aria, used by Lloyd's TSB
4) Spinnin', used by Sky.
5) Primavera, used by Santander bank.
6) The Universal, used by British Gas.
7) Shine, used by Morrisons.
8) Here Come the Girls, used by Boots.
9) Rescue Me, used by British Gas.
10) Have Love, will Travel, used by LV Insurance.