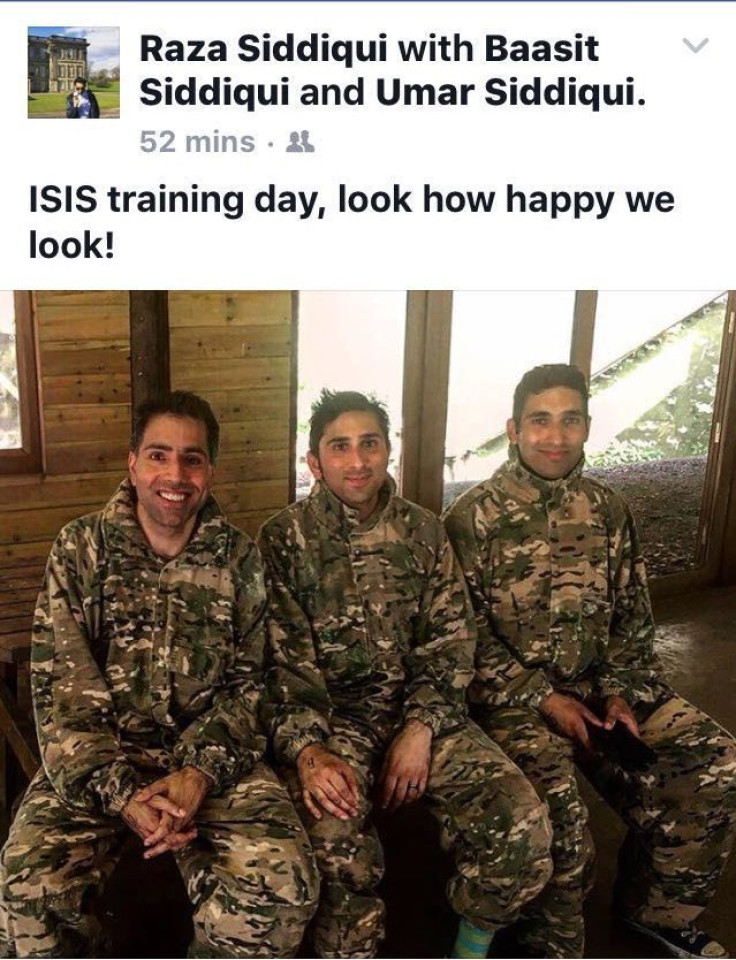 It was a practical joke that quickly turned sour. Gogglebox brothers Baasit, Raza and Umar Siddiqui joked on Facebook that they were in training for Isis while dressed in military gear. Soon after, they received a visit from the anti-terror police.
One Facebook friend failed to see the funny side of the social media prank and reported it to the police. The reality television stars were later investigated at their home, reports The Sun.
The Siddiqui brothers were pictured at a paintballing day and Raza posted the picture on the social media sharing site with the caption: "ISIS training day, look how happy we look!"
Raza appeared briefly on the hit Channel 4 show along with his brothers, who are regulars with their Pakistani immigrant father, Sid. The trio wore big grins and camouflage gear in the snap and friends of the brothers reportedly joked about the terrorist group in the comments.
Derbyshire Police found no terrorism link after investigating the report, but would be "offering suitable words of advice." They added in a statement: "No offences have been committed and there will be no further police action."
The friend, who asked to remain anonymous, said: "When you are in the media, you have a responsibility. His friends were liking and loving it. You don't know if any of those people are genuinely Isis supporters."
Many Gogglebox viewers reacted to the terror investigation on Twitter, with one user writing: "Pure lame how people can't take a joke these days eh. #gogglebox #siddiquifamily," while another put, "Whoever complained to the police about this should be lowered into the nearest active volcano".