Robert Pattinson Attends Golden Globes 2013 Solo, Kristen Stewart Spotted in LA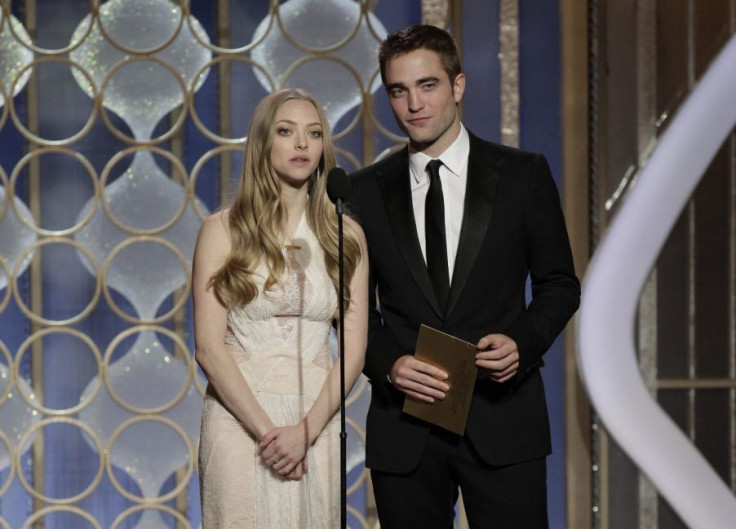 Twilight star Robert Pattinson looked dashing in a black Gucci Signoria tuxedo and black leather lace-up shoes, as the 26-year-old London-born Hollywood star took in the 70th annual Golden Globes. The glamorous awards function was held at the Beverly Hilton Hotel, in Beverly Hills, California.
Pattinson was joined by actress Amanda Seyfried to present the award for Best Screenplay Motion Picture to iconic veteran Quentin Tarantino, for his film Django Unchained.
All eyes on were on Pattinson, during the event, to see if girlfriend Kristen Stewart would accompany him as his date for the evening. The 22-year-old Twilight co-star and Pattinson are in the midst of relationship problems, as the couple seeks to re-build their romance following Stewart's affair with British director Rupert Sanders. Recent reports suggest the two have been fighting and Pattinson may end the relationship soon.
"Rob is at a point where he sometimes ignores her. He'll go out and won't respond to her calls or texts right away. Things will be strained for a while. She knows she has to go along with it. She is working hard at the relationship," a source told The Sun.
Unfortunately for fans of the couple, Stewart was not in attendance. Pattinson went stag, as did newly single actors like Silver Linings Playbook's Bradley Cooper (who recently broke up with Zoe Salanda) and Titanic and Inception star Leonardo DiCaprio.
Stewart was spotted... but it was back in Los Angeles. Twitter user Piper Watson tweeted seeing the actress in line at a Starbucks store with two other men, hours before the ceremony.
"So I'm just casually stood in line at Starbucks and guess who's in front of me? Kristen Stewart. I really want her cap," Watson wrote, "She was with two guys don't think it was robert pattinson though if that's what you're wondering. I did say hi to kristen and she said hi back now that was awesome she seems cool, don't know why everyone says she doesn't smile."
"o can i just say kristen stewart is extremely hot in person and her accent is the cutest, rob is a VERY lucky man ha," she added.
Check out a complete list of the winners from the 2013 Golden Globes.
Also check out photographs of glamorous actresses and best-dressed celebrities from the 2013 Golden Globes red carpet
© Copyright IBTimes 2023. All rights reserved.