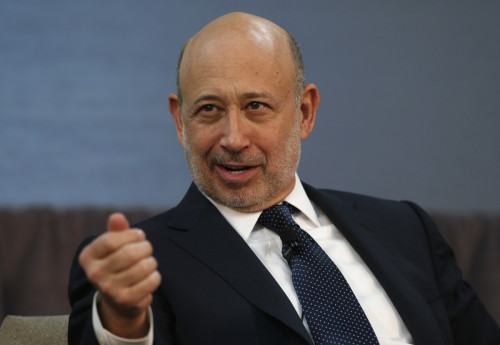 Goldman Sachs boss Lloyd Blankfein said the banking industry needs to go years without a bad story in the media if it is to rebuild its reputation with the public.
Since the financial crisis, the reputation of banks has been tarnished. Scandal upon scandal has been exposed by regulators across the globe and taxpayers have had to bail out the biggest institutions to save them from collapse after decades of mismanagement and excessive risk taking.
"There are legacy issues we have to deal with," said Blankfein at the World Economic Forum (WEF) in Davos, Switzerland, on Bloomberg TV.
"Those are going to hard and tough until the economy starts doing better, the banks themselves prove that they're better run and have made adaptations, and the best way to prove that would be to go for a few days, a few months, a few years without opening up a newspaper and finding a bad story.
"A lot of work has been done; a lot of work is still to do. We'll be in the penalty box with the American public."
As past misbehaviour by bankers at institutions over the world has been raked up, from attempts to manipulate key interest rates to the mis-selling of financial products, they are being hauled in front of regulators and prosecutors to account for themselves over issues dating back years.
Blankfein said one of the cultural changes since the financial crisis has been the increasing desire "to record your state of mind, your present state of mind, every time you do something because life has made us a little bit more aware of the value of a contemporaneous record as to what you were thinking and what you were doing."
Speaking on a panel at the WEF, Blankfein highlighted the growth potential of China, which is set to overtake the US as the world's largest economy by the end of the year.
"A lot of eyes are on China, it's a very big focus. If China continues to grow, I get more optimistic for the US," he said.
"This could be China's century, but they won't own every year. Trade is good. The Chinese are good owners, their capital is good. And their investment brings jobs."