Google Cardboard-inspired mixed-reality headset smashes funding goal on Kickstarter
VR and AR-mixing ZapBox rivals Microsoft HoloLens and Magic Leap for a fraction of the cost.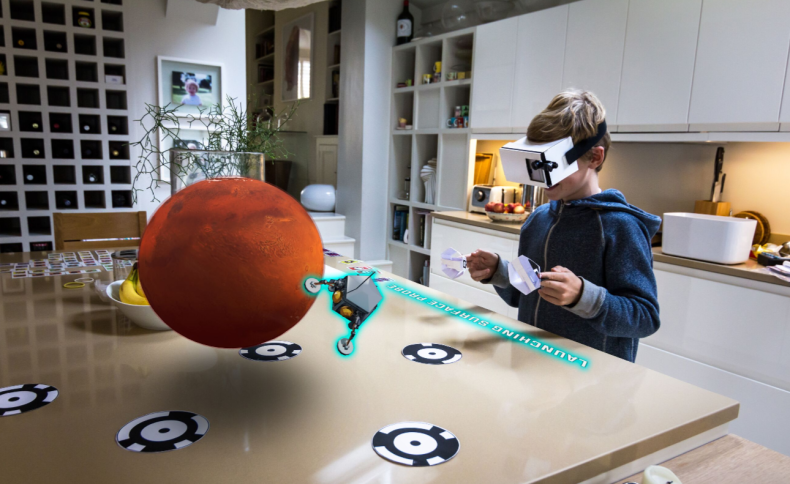 While virtual reality (VR) and augmented reality (AR) have become more affordable than ever with evolving smartphone tech, the combination of the two – dubbed mixed reality (MR) – has so far carried a hefty price tag.
However, a London-based tech company is hoping to slash the cost of entry with ZapBox – a Google Cardboard-inspired headset that uses an iOS or Android smartphone app to bring MR to the general consumer for 1% of the cost of Microsoft's HoloLens.
Zappar launched a crowdfunding campaign for its $30 (£24, €28) MR kit on Kickstarter in mid November. After almost a month, the ZapBox project has now almost doubled its initial funding target of $30,000, hitting multiple stretch goals along the way.
The ZapBox comes with four key components, with all but one built entirely of cardboard. The headset itself wears its Google Cardboard influence on its sleeve and supports most iOS and Android smartphones with a in-built gyroscope.
A bundled lens adapter attaches to the smartphone camera, broadening the field of view enough to take in the "pointcodes" – small markers that map out the room once stuck to nearby surfaces – to create a room-scale MR experience. Finally, a pair of cardboard controllers (that uncannily resemble the podiums in Emperor Palpatine's throne room from Star Wars: Return of the Jedi) are included so the user can interact with objects within the virtual augmented space.
Backers can grab their own ZapBox with a pledge of $30, with app developers able to craft their own MR experiments at higher tiers via the company's ZapWorks platform. At launch, the ZapBox app will include multiple "experiences", such as 3D painting, playing a xylophone and a pop-up game of mini-golf.
"Here at Zappar, our goal has always been to make AR, VR and now MR available to everyone," said Zappar CEO and co-founder Caspar Thykier. "We've worked tirelessly to ensure all elements of ZapBox, from app to cardboard components, are simple and affordable but most importantly deliver awe-inspiring experiences. This all started when we said to ourselves: could we make Magic Leap, Magic Cheap? ZapBox is our answer to that question."
The ZapBox Kickstarter campaign (which you can find here) ends on 16 December and at time of writing only one stretch goal remains, at the $60,000 mark for "Easy 3D model visualisation". The ZapBox kit itself ships worldwide and is expected to arrive in backers' hands in April 2017.