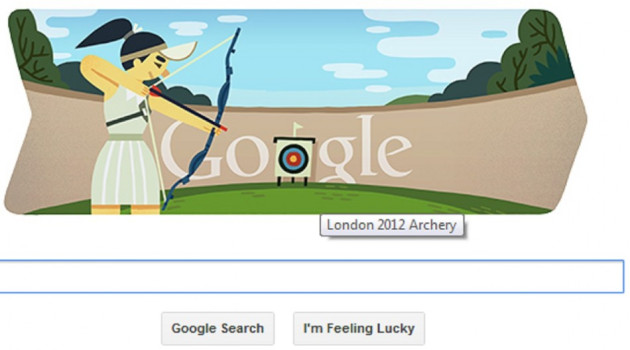 Google has come up with a new doodle to celebrate the second day of the Olympics with a graphic image of the London 2012 archery event.
The Google doodle depicts a female archer aiming at the target, the third alphabet in the Google logo, which has been turned into the bullseye, in a green field that resembles the Lord's Cricket Ground where the events are being held.
The London 2012 archery events began on 27 July before the official opening of the games and will be held till 3 August. Archers compete in four medal categories such as men's individual, women's individual, men's team and women's team.
Though the archery event debuted at the 1900 Summer Olympics, it was dropped from the games after the 1908 London Olympics.
The event was re-introduced in the games at the 1972 Munich Olympics after a gap of over half a century.
The 2012 London Olympics was officially declared open by Queen Elizabeth II. Oscar-winning Danny Boyle directed a spectacular visual treat at the opening ceremony depicting the best of Britain.
Google has a tradition of sports-specific doodles on its homepage during the period of the Olympics. The tech giant is expected to release different doodles on each day of the 2012 London Olympics, in keeping with its tradition.
Its daily Olympic Google doodle tradition began with the 2000 Sydney Olympics and continued through the winter and summer Olympic Games till the latest 2010 Vancouver Winter Olympics.
The opening ceremony of the 2008 Olympics in Beijing was depicted in the five Beijing Olympics mascots - BeiBei, JingJing, HuanHuan, YingYing and NiNi - carrying the Olympic flag.
On Friday, to coincide with the opening ceremony of the 2012 London Olympics, Google doodle featured a graphic of five athletes - corresponding to the number of rings in the Olympic logo.
The athletes were captured playing different sporting events such as swimming, fencing, track and field, football and basketball.