At its I/O developer's conference in San Francisco, Google has unveiled a completely redesigned version of Google Maps, marking the biggest overhaul for the service since it launched eight years ago.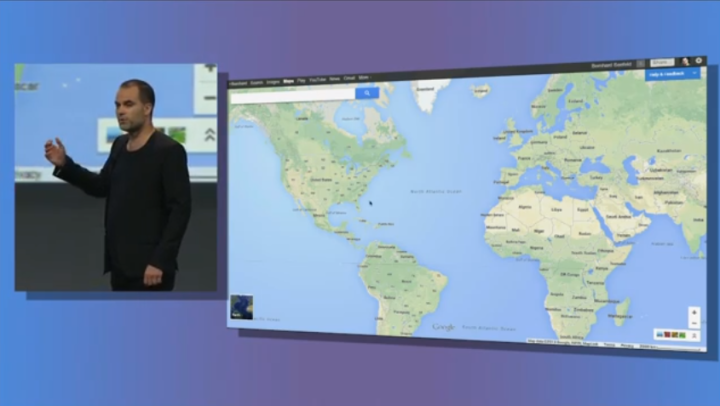 The new version of Maps is focused on using the map itself as the user interface. Though a lone search box in the left corner of the browser screen still allows you to search for transport routes and locations, you can also access Maps' features by clicking on areas within the map itself.
Restaurant eviews from Zagat and images from Google Earth and Streetview have all been incorporated into the new browser version of Maps, meaning you can see panoramas of the interiors and exteriors of buildings, composed using photographs collected by Google Streetview, and receive recommendations on where to visit. Recommendations are based on reviews found by Google as well as ratings given to locations by your contacts on Google+.
A new "Explore" function is accessible with a single button and automatically provides suggestions on where to visit in your local area. It can also predict your night or day out. If you use Maps to navigate to a restaurant, it will also highlight bars in the local area which you may want to visit after.
Explore features several categories, all listing distinct locations. The "Play" category for instance lists parks and museums which you may want to visit with your children, while the "Popular with Tourists" category will highlight on Maps famous landmarks in the local area.
The new Maps will also automatically highlight commonly visited places such as your work or your home, as well as your frequently travelled routes.
The improved version of Maps also includes a more comprehensive schedule viewer for public transport, allowing you to see train and bus times a week in advance.
The pressure is now on Apple to improve its own mapping service to rival Google's. Apple Maps, announced in June, 2012, and released on the iPhone 5 in September, was originally the MacBook creator's answer to Google Maps. However, users found the service to be buggy and problematic, prompting Apple CEO to publicly apologise.
WWDC, Apple's own developer conference, takes place in San Francisco on 10 June; it is expected the company will announce the latest version of its iOS operating system, iOS 7, which may include an improved version of Apple Maps.
Meanwhile, the new Google Maps will not be widely available until the summer. However, eager users can now sign up for a preview of the desktop version at maps.google.com/preview.
Must Read:
Google Play Music All Access Rivals Spotify in Music Subscription Market
Google Play Game Services Bring iOS Game Center Rival to Android
Google Hangouts Takes on BBM and WhatsApp With Free Cross-Platform Messaging