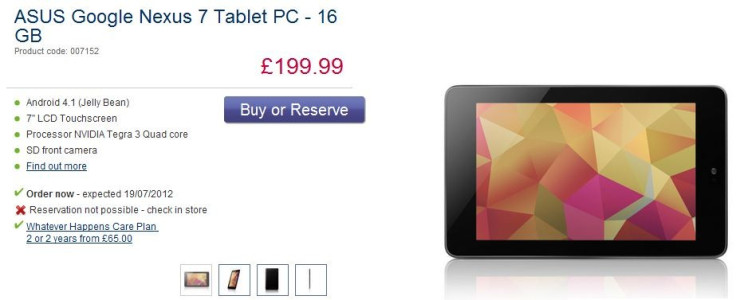 In a startling revelation, UK gadget retailer Currys has uncovered the price and release date details for Google's debut tablet computer - the Nexus 7. The coveted 7-inch (16GB model) Android device with the goodness of Jelly Bean update is expected to go on sale from 19 July at £199.99 - a budget friendly price any day. Nexus 7's only competition comes from the rival camp - Amazon, whose Kindle Fire has nothing more than value added apps to show off in comparison to Google tablet's much admired hardware configuration.
As Gadget Helpline notes, although, Google has not confirmed the release date (price is confirmed), greedy retailers have often capitalised on early sales announcements for gaining a head start in their crooked marketing campaigns. The famed Nexus tablet was unveiled last week at the company's annual I/O Developer conference alongside the refreshingly new Android software update - Jelly Bean. A lighter version of the Nexus tablet with 8GB onboard storage is also expected to be available at £159.99 approximately.
Curry's demo tablet model posted on their Web site features a quad-core Nvidia Tegra 3 processor with 1GB of RAM. Its 7-inch IPS Gorilla glass display flaunts 720p HD capability with high-resolution image rendering up to 1280 x 800 pixels. The tablet also features a 1.2-megapixel front-facing camera for video chat. In addition, a 12-core GPU and an HDMI port onboard bring its gaming and multimedia potential to the fore.
Thanks to the new Jelly Bean update, the Nexus 7 gets a revamped user interface (UI) based on slick and smooth Project Butter technology, which reportedly delivers smoother yet faster performance than its predecessor - Android 4.0 Ice Cream Sandwich (ICS). Nexus 7 is also the first tablet to feature Chrome as the default browser.
The tablet measures 198.5 x 120 x 10.45mm in dimensions and is considerably lighter than iPad or Kindle Fire at just 340g. There are no 3G or 4G connectivity options, though it comes with integrated Wi-Fi capability. According to Google, its 4325mAh battery is rated to last a decent 8 hours on normal use.
The tablet, however, has no microSD expansion slot, which is a big let-down if you are a multimedia fanatic, who loves watching High Definition (HD) movies. The 16GB model will also offer a bonus £15 Google Play credit to spend on your favourite songs.
According to Tech Radar, you may download or import a maximum of 20,000 songs into Google Play using the Music Manager or through iTunes music library. A soft cover and an extra charger are also available for purchase from Google in case you need one.